Subscription Required
By Vincent Valery
Introduction  
Jan. 18, 2021, © Leeham News: As the COVID-19 outbreak spread throughout China in January last year, their airlines were the first hit by the sudden collapse in passenger traffic. Most of the world's carriers would follow the same faith by March.
However, as China managed to bring the COVID-19 outbreak under control, domestic traffic progressively picked up. According to IATA statistics, October 2020 Revenue Passenger Kilometers (RPMs) in domestic China were down 1.4% year-over-year, compared with a 60.7% decline in the domestic USA market. However, one should note that travel between China and the rest of the world remains very limited, notably due to the draconian quarantine requirements on arrivals from abroad.
Due to the faster recovery in domestic passenger traffic, China Southern Airlines had more RPKs year-to-date than Delta and United, only trailing American Airlines. Air China and China Eastern Airlines have had comparable year-to-date RPKs with Air France – KLM, and more than Lufthansa and IAG. Below is a summary chart: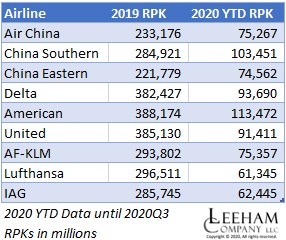 The three carriers received significant financial support from the Chinese government to sustain their operations.
The COVID-19 pandemic will likely accelerate the big three Chinese carriers' global importance compared with their equivalents in the USA and Europe. With that in mind, LNA analyzes their structure and financials in recent years.
Summary
Three state-owned enterprises;
The specific structure of each carrier;
Varying financial performance;
Ambitious growth plans.