By Judson Rollins
Introduction
November 13, 2021, © Leeham News: On the eve of the Dubai Air Show, Airbus released the first edition of its annual Global Market Forecast (GMF) since the COVID-19 crisis began.
The manufacturer sees approximately 39,000 passenger aircraft with 100+ seats and freighters being produced by 2040. 29,690 will be small aircraft, 5,340 medium, and 3,990 large. Airbus's category definitions now take both size and range into account; the A321XLR is categorized as a "medium" airplane, reflecting its inroads into routes currently operated by smaller widebodies.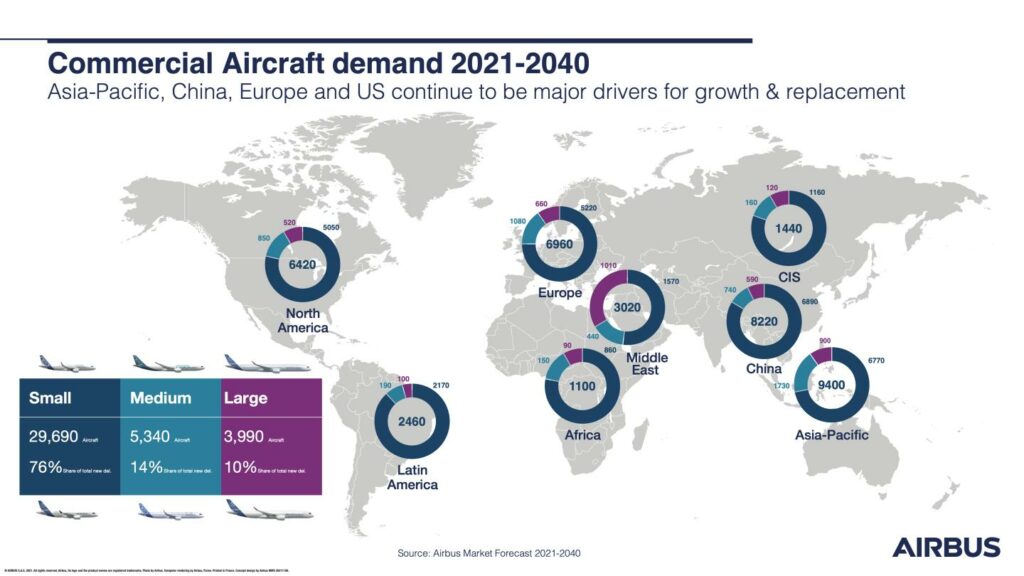 Chief Commercial Officer Christian Scherer said that Airbus took a "corridor" approach to forecasting a global traffic recovery using high and low scenarios. In the low case, traffic would recover to 2019 levels by 2023, or 2025 in the high case. He said the high scenario is basically an extrapolation of recent traffic trends across key markets.
He expressed optimism that the wave of COVID-driven order cancellations had peaked. "The resilience of our industry has been remarkable. Owners continue to believe in their investments and put capital into their fleets."
Global traffic expected to recover between 2023 and 2025
Airbus sees a two-year permanent lag in demand growth versus the pre-pandemic trendline but does see global traffic returning to 3.9% annual growth, down from 4.3% previously.
Scherer repeatedly emphasized the level of "conservatism" in the company's forecast, pointing out that Boeing's competing Current Market Outlook (CMO) assumes a larger replacement market. He expressed optimism for replacement trends, saying that average replacement age has decreased by 2-3 years in recent years.
Airbus raised its expectation for replacement aircraft to 40% of total production, up from 33% in its 2019 GMF. It attributes a large portion of its replacement forecast to a global push for increased sustainability and that 13% of airplanes currently service use previous-generation engine technology.
Scherer pushed back on assertions by a Boeing executive at a previous media briefing that Airbus is "flooding the market" with single-aisle aircraft beyond what market demand can absorb. "We're not the ones controlling the marketplace. We're in an industry that builds to order."
Freighter market to be dominated by conversions
The European manufacturer sees demand for 2,440 freighters including conversions, of which 1,490 are expected to be replacements. 880 are expected to be new builds. Express freight is forecast to grow by 4.7% per year, while general cargo (comprising 75% of the market) will grow 2.7% annually.
Scherer said, "Yes, there is a bit of a frenzy around dedicated freighters, but the airplanes available today aren't the most efficient available today. So, there will be a rapid erosion in the residual values in the [freighters] being delivered today."
He declined to comment on any further native-build freighter products under consideration.
Services market expected to resume pre-COVID trend
Airbus' pre-pandemic forecast of around $4.8 trillion of services over the next 20 years was maintained despite a COVID-related dip of 20% through year 2025 period. It still foresees a need for more than 550,000 new pilots and 710,000 technicians over the next 20 years.