Subscription Required
By Vincent Valery
Introduction  
Nov. 15, 2021, © Leeham News: Airbus and Boeing updated their commercial production plans a few weeks ago, including rates on their twin-aisle families.
As a result of solid freighter demand, Boeing is considering increasing the 777F production rate from around 1.5 per month. Lingering production issues leave the Dreamliner assembly line at two per month until deliveries resume. The 767 line stays at three per month for now.
Airbus delayed an increase in the A350 production rate from five to six per month to early 2023. However, the OEM surprised the market by announcing an increase in the A330 production rate to three per month by late 2022.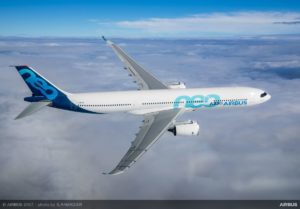 LNA has repeatedly pointed out the weak A330neo order book in recent years. Airbus said that recent commercial successes allow it to ramp up A330 production.
While Boeing was more cautious about a near-term recovery in twin-aisle aircraft orders, Airbus recently stated that interest was picking up. LNA investigates the latest production plans on commercial twin-aisle programs and compares them with early 2020 and 2021.
Summary
A head-scratching A330 production increase;
Pushing 777X deliveries to the right;
Differing plans for the A350 and 787;
Sustaining the 767 production rate.