By Bjorn Fehrm
November 15, 2021, ©. Leeham News Dubai: Air Lease Corporation (ALC) crowned its agreement for 111 Airbus single-aisle and wide-body aircraft with a launch order for the new A350F freighter.
The order for seven A350F was part of a 111 unit long-term deal to top up ALC's 100 aircraft order from Le Bourget Airshow 2019. With 25 A220-330s, 55 A321neos, 20 A321 XLRs, four A330neos, and seven A350Fs, Air Lease is now covered until after 2025.
"We think it's timely to order these aircraft now, before the post COVID rush for new aircraft sets in," said Air Lease's Executive Chairman Steven Udvar-Hazy. The leasing company thus secures its availability of aircraft in a market with rekindling demand and an Airbus that's approaching capacity limits.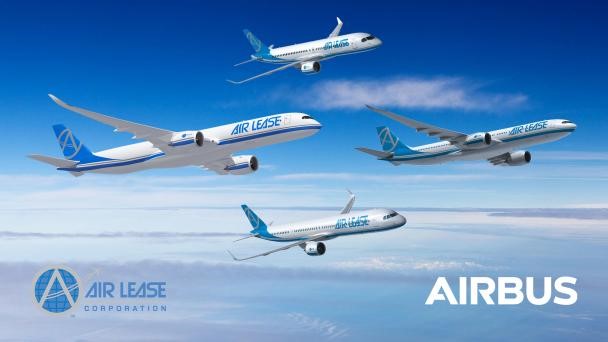 Air Lease Corporation, the launch customer for A350F
"Air Lease Corporation was the launch customer for the A330neo, the A321LR, and XLR, and now we continue this tradition with the A350F. We are convinced we have made the right choice again with the A350F," said Udvar-Hazy.
ALC's CEO and President John Pluger filled in: "The order for seven A350F corresponds to discussions with seven airline customers for placement of the freighters in 2026. We can't confirm any placements yet as we haven't had a contract for the aircraft, but discussions are active, and there is high interest from, for instance, existing A350 customers".
The new heart of the market, and A220's growing popularity
The top-up order for single-aisle is typical in that only A321neos and XLRs are ordered, no A320s. The A321 is the new heart of the market and the XLR Airbus' icing of the cake.
The smaller A220 is also seeing increased interest. ALC increased its 2019 order of 50 A220 with another 25 by exercising its option from the 2019 contract. "We see a growing demand for the A220," said Udvar-Hazey. "With the order, we increase our position as the largest A220 lessor".
There is also three A330neo in the order, "and all three are placed with customers," said Pluger.
Joint Sustainability fund
As part of the order Air Lease and Airbus sets up a multi-million dollar ESG fund to support research into Sustainable Aviation. The fund will be open to other lessors and finance institutions to join.