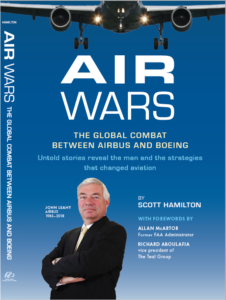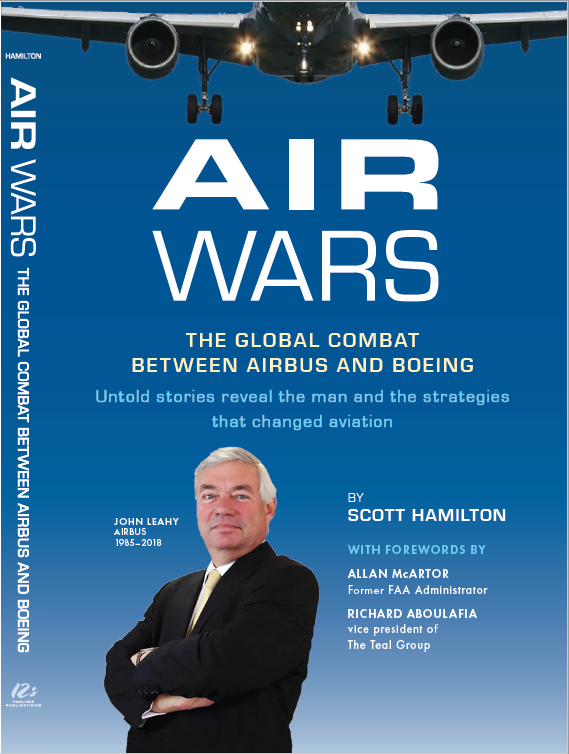 Dec. 29, 2021: Air Wars, The Global Combat Between Airbus and Boeing, is now available in paperback via Barnes and Noble. It is also available via Amazon in paperback and eBook.
Air Wars is by LNA's Scott Hamilton. It covers 35 years of the global sales and product strategy between Airbus and Boeing. John Leahy, who retired in January 2018, led Airbus' sales teams in the US and globally for most of his 33 years at Airbus. The book covers his successes and failures, campaigns against Boeing and gets both sides of these campaigns and product strategies from key people like Leahy, Tom Enders, Kiran Rao, Tom Williams and Leahy's successor, Christian Scherer at Airbus; and Ray Conner, Jim Albaugh, Scott Carson, Toby Bright and John Feren from Boeing. Industry players like Steven Udvar-Hazy and John Plueger are also interviewed.
Key events, scandals
The story and threat of the Bombardier C Series and why Boeing didn't buy the program when it had the chance and why Airbus did after first passing on it.
Key events, such as the competition for the KC-X USAF tanker, the 737 MAX grounding and the COVID pandemic are also covered.
Air Wars has been termed by several readers as a "worthy successor" to 1982's The Sporty Game by John Newhouse. This book was considered at the time to be the definitive look at the competition between Boeing, McDonnell Douglas and the upstart Airbus. Leahy joined Airbus three years later. A decade after that, McDonnell Douglas Corp tried to recruit Leahy from Airbus. One can only imagine what history might have been had Leahy gone to MDC and then to Boeing in the 1997 merger.
Find out these stories and more in Air Wars.