Subscription Required
By Vincent Valery
Introduction  
Feb. 1st, 2022, © Leeham News: After a large number of cancellations, Boeing accumulated a healthy number of 737 MAX orders in 2021. Some came through positive ASC 606 adjustments on Boeing Commercial Airplanes' website. The adjustments resulted from Boeing agreeing on new terms on existing deals or finding new customers for tails flagged as ASC 606.
Airbus also accumulated a healthy number of A320neo family orders, effectively selling out the production line through the middle of this decade. Both OEMs struggled with their twin-aisle order books due to the lingering effects of the pandemic and Boeing's Dreamliner production problems. Freighter orders were a bright spot for Boeing.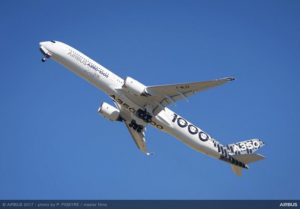 However, portions of both OEM's order books became shakier. It means there is a material probability some orders won't translate into deliveries. Most were the result of airlines encountering financial difficulties, but some were related to contractual disputes. Boeing flags such orders as subject to an ASC 606 adjustment.
Unlike Boeing, Airbus isn't subject to an accounting rule similar to the ASC 606 adjustments. Therefore, the European OEM does not break down the orders at risk of cancellation by the program. Airbus only discloses the nominal value of its total adjusted order book in its annual report.
LNA analyzed in July 2020, November 2020, and August 2020, Airbus' and Boeing's order books to identify orders at risk and come up with an apples-to-apples comparison. We update this analysis with the latest order books from both OEMs. The above links explain our methodology and its differences with Boeing's ASC 606 adjustments.
Summary
Lingering order book cleanup for older programs;
A riskier region for single-aisle orders;
Small and large twin-aisle order book weaknesses;
A more significant impact on twin-aisle market shares.