By Scott Hamilton
Feb. 18, 2022, © Leeham News: Qatar Airways was in default of its Airbus contracts, allowing the OEM to cancel the orders for two A350-1000s and 50 A321neos, say people familiar with how these things work.
In a court filing last month, Airbus directly made this assertion.
The moves by Airbus over several weeks to cancel the orders from a major customer that is not in financial distress is unheard of.
Qatar and Airbus are embroiled in a very public dispute over flaking paint on A350s owned by Qatar that now is the subject of lawsuits in a London court. The airline seeks nearly $700m in damages. Qatar claims the flaking paint is a safety issue, backed by the government regulator that grounded 23 A350s. Airbus, and its governing regulator, EASA, say no safety issue is at stake.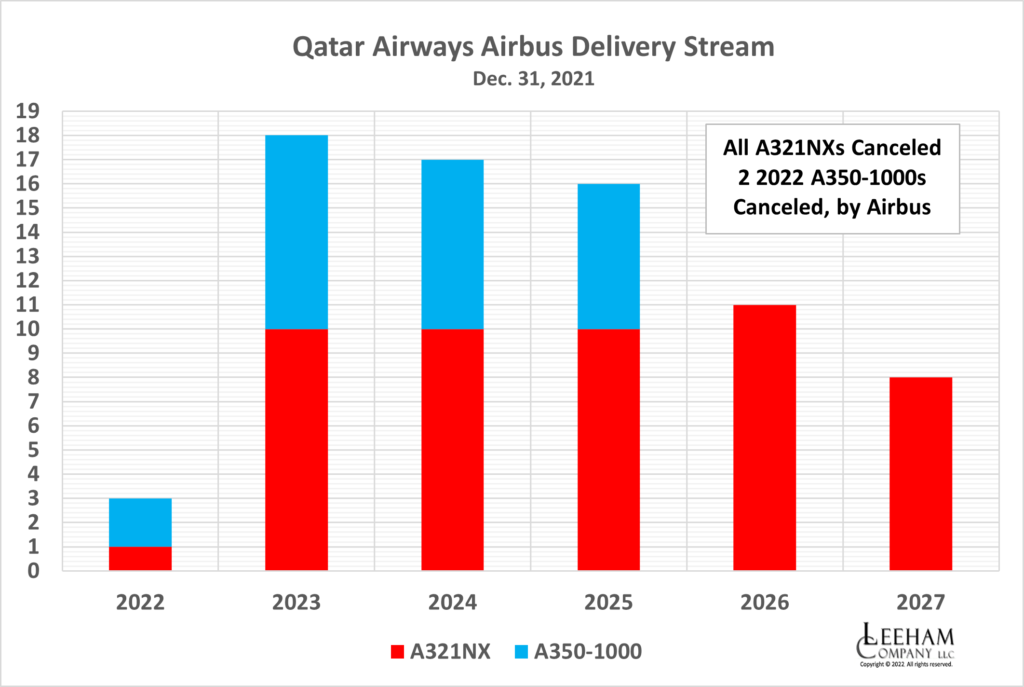 Airbus offered to repaint the airplanes and provide compensation, say people familiar with the situation. The compensation was unacceptable to Qatar Airways, they say.
Defaults and cross-defaults
LNA is told that Qatar almost certainly suspended progress payments during the dispute. It was unknown if this was for the A321neos or A350s or both. Qatar has said it was current on its obligations for the A321neos. But it also said in a court filing it wasn't obligated to accept delivery of any more A350s due to the dispute.
"Qatar also alleges that one consequence of the…alleged defect(s) in the A350 (which, as noted above, are denied) – is that Qatar is not obliged to accept delivery of new aircraft by virtue of clause 8 and/or clause 12 of the [purchase contract]. Airbus' position is that this is wrong and that Qatar is in clear default of its contractual obligations in relation to two A350 aircraft that Airbus has tendered for delivery," a London court wrote on Jan. 19.
When Airbus tendered two A350-1000s for delivery, Qatar refused to accept them. This triggered a default, allowing Airbus to cancel these two orders, Airbus said in a court filing, cited in the Jan. 19 court document.
"On 17 January 2022, Airbus served notice on Qatar to terminate its obligation to deliver one of those A350 aircraft and also exercised its right to terminate a separate contract with Qatar for the delivery of A321 aircraft pursuant to a cross-default provision in the [purchase contract]. Airbus anticipates that this will give rise to a further issue between the parties as to whether it was entitled to terminate and, if so, what losses Airbus can recover from Qatar as a result of the termination.
In court Feb. 18, Qatar characterized the A321neo cancellation as a "hand grenade" thrown by Airbus, Reuters reported.
Qatar Airways did not respond to a request for comment. Airbus declined comment.