Subscription Required
By Scott Hamilton
April 25, 2022, © Leeham News: Airbus is charging ahead with its ZEROe ecoAviation research and development, focused on hydrogen (H2) power while supporting efforts for Sustainable Aviation Fuel in the meantime. Airbus targets 2035 for a commercial airliner, which will almost certainly be a turboprop—not a jet.
Boeing previously said it believes Sustainable Aviation Fuel (SAF) is the near-term answer for greening up commercial aviation. By 2030, all its aircraft will be capable of 100% SAF use. Airbus is heading down this path, too.
Airbus believes H2 is the best solution to achieving zero emissions. Battery-powered airplanes and eVTOLs and battery-hybrids are other alternatives. Each has big technical and/or supply challenges to overcome.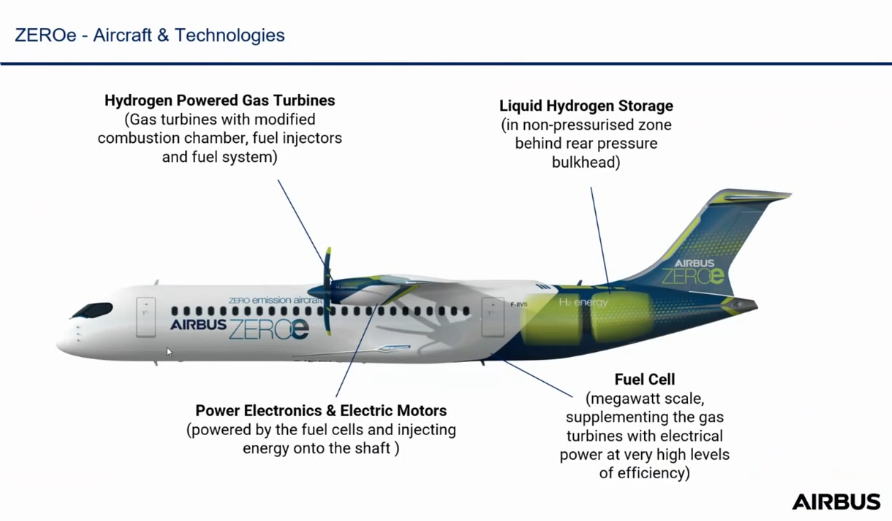 In a webinar last week, Amanda Simpson, VP of Research and Technology for Airbus, said designing an entirely new airplane for H2 opens the possibility of an entirely new, high-tech wing design for which other research has been underway. A "Wing of Tomorrow" has been under development for years. Airbus already is pursuing an UpNext eXtra Performance Wing. For shorthand, LNA will identify this as the UNePW.