April 25, 2022, © Leeham News: Boeing appears on a path to resume deliveries of the 787 in the second half of this year.
Filings by American and United airlines with the US Securities and Exchange Commission show each carrier expects 787s later this year. And, according to a Reuters report, Boeing privately told the airlines and the supply chain that deliveries will resume in the second half.
Boeing declined comment.
A United 8-K filings (an unscheduled filing) indicate two deliveries in the third quarter and another four in the fourth quester. These are 787-10s. American indicates seven Dreamliner deliveries by year-end in its 10Q filing. These are 787-8s.
At the start of this year, American said it expected deliveries to resume in April. Boeing, on its 4Q2021 earnings call, did not confirm this but it didn't dispute it, either. The Federal Aviation Administration (FAA) oversees when Boeing can resume deliveries.
Deliveries were suspended in October 2020 when a gap the size of a piece of paper (ie, the thickness of 0.004 inches*) was found in new production airplanes. While not a safety of flight issue, the gap was a non-conforming production requirement. The FAA asked Boeing to halt deliveries while the scope of the problem was determined, and a fix identified. Coming during the grounding of the 737 MAX, coupled with increased scrutiny of Boeing and the FAA, scoping the breadth of the gap problem and determining a fix has taken an agonizingly long time. During this period, the FAA rescinded Boeing's authority to certify each 787 for delivery, assuming this responsibility instead.
FAA authority
The FAA previously revoked Boeing's authority to certify new 737 deliveries. This authority remained with the FAA following the ungrounding of the MAX in November 2020. Deliveries of the MAX are now a combination of the legacy inventory, at one point around 450 planes, and new production aircraft. More than 200 legacy MAXes in inventory have been delivered, according to Aviation Week. (Boeing doesn't break out numbers.) New production 737s accounted for more than 200 deliveries since the airplane was recertified. There are about 110 787s in inventory.
The FAA has limited numbers of personnel to certify the MAXes and 787s, slowing deliveries of the former and affecting plans to restart 787 deliveries, according to market intelligence.
Certification of the 777X also has been delayed by the knock-on effects of the MAX crisis. Tim Clark, president of Emirates Airline, is a vocal and public critic of the delays. The first X was supposed to be delivered in 1Q2020. An initial delay of about nine months was taken because of technical issues with the giant GE Aviation GE9X engine. Then, flight testing revealed some control issues and the MAX crisis, with its scrutiny of the FAA and Boeing, spilled over to the 777X program. Repeated delays have been announced. Boeing set a certification goal of late 2023, but many observers quickly concluded this would slip as much as a year. Clark publicly predicted the entry-into-service (EIS) may not occur until 2025.
Boeing program delays
Throughout the jet age, Boeing prided itself in meeting schedules for EIS. There were few delays and those mostly were measured in months.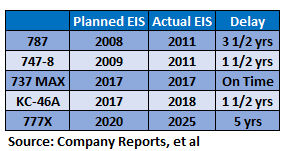 But since the 787 program, launched in December 2003, all but one commercial airplane program experienced long delays. (The military KC-46A tanker is based on the commercial 767 airplane.) Ironically, the only 7-Series program to meet schedule was the 737 MAX—it delivered about two months early. Then, it was grounded for 21 months beginning in March 2019 following the second accident that revealed a fatal flaw in a control system and a plethora of systemic development and personnel issues.
Boeing has taken more than $20bn in charges for these five programs. Nearly $5bn more in charges have been taken for the new Air Force One program, converting two whitetail 747-8s into presidential configuration.
*Boeing supplied this figure. In response to reader comments, Boeing clarified that this should read 0.004.