By Bryan Corliss
Nov. 9, 2022, © Leeham News: The Boeing Co. projects the world's air cargo fleet will grow by 80% in the next 20 years, as new operators rush to meet demand caused by a global boom in e-commerce.
This will translate into orders for nearly 2,800 new and converted freighters by 2041, said Darren Hulst, Boeing's vice president of commercial marketing.

As many as 40 new companies are getting into the air cargo market, ranging from start-ups to traditional shippers diversifying into the air cargo market, Hulst said.  
"Cargo has been, relatively, the bright spot in aviation since the beginning of the pandemic," he said during a briefing with reporters prior to today's International Air Cargo Association forum in Miami..
SUMMARY
Cargo market hanging on to most pandemic gains

Demand strong for dedicated cargo jets

Boeing doesn't see need to replace 747-8F until 'mid-century'


Air cargo market hanging on to gains made during pandemic
Air cargo revenues – driven by a surge in e-commerce – skyrocketed during the pandemic, Hulst said. "Revenues were 70% higher on air cargo in 2021 than they were in 2019, and (they) should roughly maintain those levels in 2022."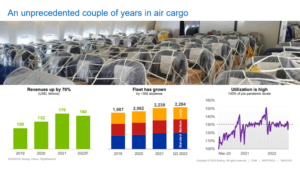 The value of air cargoes shipped grew to $170 billion last year, and should stay close to $160 billion this year. "Not only record levels of cargo revenue, but unprecedented levels," he said. "You're still seeing significantly higher average yields, which is providing a revenue environment that is still remarkably stronger than what existed in pre-pandemic times."

As a result, Hulst said, cargo carriers grew their fleets by roughly 15%, adding nearly 300 freighters to their fleets, with "the vast majority, all but maybe 30 of these," being Boeing jets, either new-built freighters or conversions.
More growth is coming, he said.
Boeing projects global demand for air freight will grow by about 4% a year. "These e-commerce networks continue to expand and it's not just the mature operators," Hulst said, adding that there is "significant activity in the startup space or new logistic markets and networks that are being created, especially in emerging parts of the world."
Right now the market is seeing "big e-commerce names joining with airlines or creating airlines to create their own networks to satisfy the tremendous demand that exists in the e-commerce space," he said. "This is something that sustains demand."

In addition, "there's a significant amount of pent up, large freighter replacement demand," Hulst said. "Over half of the fleet is at least 20 years old, and while there's a significant amount of 777 and 747-8 freighters … that are new and efficient and capable, there's a tremendous amount – almost 400 or over 350 aircraft – that do need replacement."

That also is "a very stable base of demand as we look at the next 10 and 20 years," he said.
Demand has been strong for dedicated freighters
Very little cargo is carried in the bellies of jets operated by passenger airlines, Hulst said.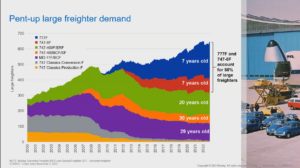 "Ninety percent of air cargo is flown by carriers that either only operated dedicated freighters or at least have dedicated freighters in their fleet as part of their total fleet," he said.
That means cargo carriers will need new freighters so that they'll have enough planes to replace those nearing the ends of their lifespans, and to accommodate for future growth, Hulst said.
Boeing's projections break down like this: 
The global air cargo fleet will grow to 3,600 jets by 2041, even as more than 1,300 older planes drop out of service

That will require some 2,800 additional freighters.

Boeing projects that roughly a third of them will be new-built widebody jets (767 and 777 size).

The rest will be conversions, including all of the 1,300 narrowbody freighters that Boeing projcts will be added to the fleet. 
Last year, Boeing delivered 35 dedicated cargo jets; 19 767-300Fs and 16 777Fs. Going forward, the company sees demand for 515 new 777-size freighters and 425 767-size cargo jets.
To meet that projected demand, Boeing would have to deliver 47 cargo jets a year. Its order book suggests that may be feasible, in the short run: The company booked a record 204 freighter orders, including 95 737-800 freighter conversions. 
Boeing is doing 737 conversions at sites around the world, in China, Costa Rica, Canada and the United Kingdom. 
This year's sales are running close to last year's, Hulst said. That includes orders for more than 50 777-8Fs, which Boeing began to offer in January. Those planes are scheduled for delivery starting in 2027.
Current 747-8Fs won't be replaced soon 
Boeing last year also sold the last four new built 747-8Fs, which are going to Atlas Air.  
Hulst says those planes, with their unique size and nose-door loading feature will fly "well into the middle of this century."
But for now, Boeing projects more carriers will be interested in the new 777-8F, which has payload capacity that's "slightly higher than 747-400 payload capacity that existed in freighters, you know, for the last almost 30 years," he said. |
Boeing expects cargo carriers to "focus on efficiency and capability and the range and capability of the 777 and 777-8 freighters," Hulst said, predicting they will "provide the standard for what the market needs going forward." 
He said Boeing will continue to support the 747 cargo jets in service that will serve "the unique parts of the market, outsized and large."
And when those are closer to retirement, "then we'll see what happens beyond that," Hulst said. "But it's a long time away."