December 2, 2022, ©. Leeham News: Last week, we started looking at the air traffic problem of eVTOLs. The rulemaking on how these shall avoid running into each other, other aircraft, and drones outside controlled airspace is not done.
The first general principle has been issued by European rule-makers dealing with how drone traffic shall be regulated, and this will also be expanded to cover VTOLs. Airbus, the world's largest vertical transport supplier, through its helicopters, gave its view on VTOL operations in its two-day Summit this week.
eVTOL operations
Airbus is the eVTOL player with the longest and most extensive vertical flight experience as an OEM. Its helicopter range is produced for 70 years and covers small single-engine types taking a tonne of payload to large multiengine types that carry over 5 tonnes. Their helicopters typically have an endurance of four hours or more.
Its eVTOL project, CityAirbus NG (Figure 1), is modest with its range (40nm), and speed claims (65kts). It's because its investor, the Airbus group, doesn't need fantasy figures to continue the program. Its eVTOL complements its helicopter range. Airbus is in eVTOL for the long haul and is more interested in claims it can keep and the application of the eVTOL to the correct initial markets, so a public backlash against the category can be avoided.
At the Airbus summit, the first use case for the CityAirbus NG was announced. It's EMS (Emergency Medical Services), where the low noise extends the acceptable working hours for a quick reaction medical support service. Due to its short range, the helicopter complements the eVTOL for longer-range EMS.
The following application is e-Tourism, where the eVTOL can fly people to places where a noisy helicopter would not be acceptable.
The third was scheduled shuttle services between airports and city centers or center to center.
Non-timetable or random destination air taxi operation was "for later" as the air traffic rulemaking and infrastructure is not ready (the CityAirbus NG becomes operational 2026).
The Air Traffic Management problem
As mentioned last week, the framework for managing air traffic outside controlled airspace is unclear. Europe has given the first guidelines for what to do for its U-space, an airspace volume where drones, VTOL, helicopters, and general aviation shall co-exist.
The technology for managing all these different classes of vehicles is not ready. There is no clear understanding of how it shall be done. Can collision avoidance applications be prescribed for general aviation traffic beyond the requirement for ADS-B?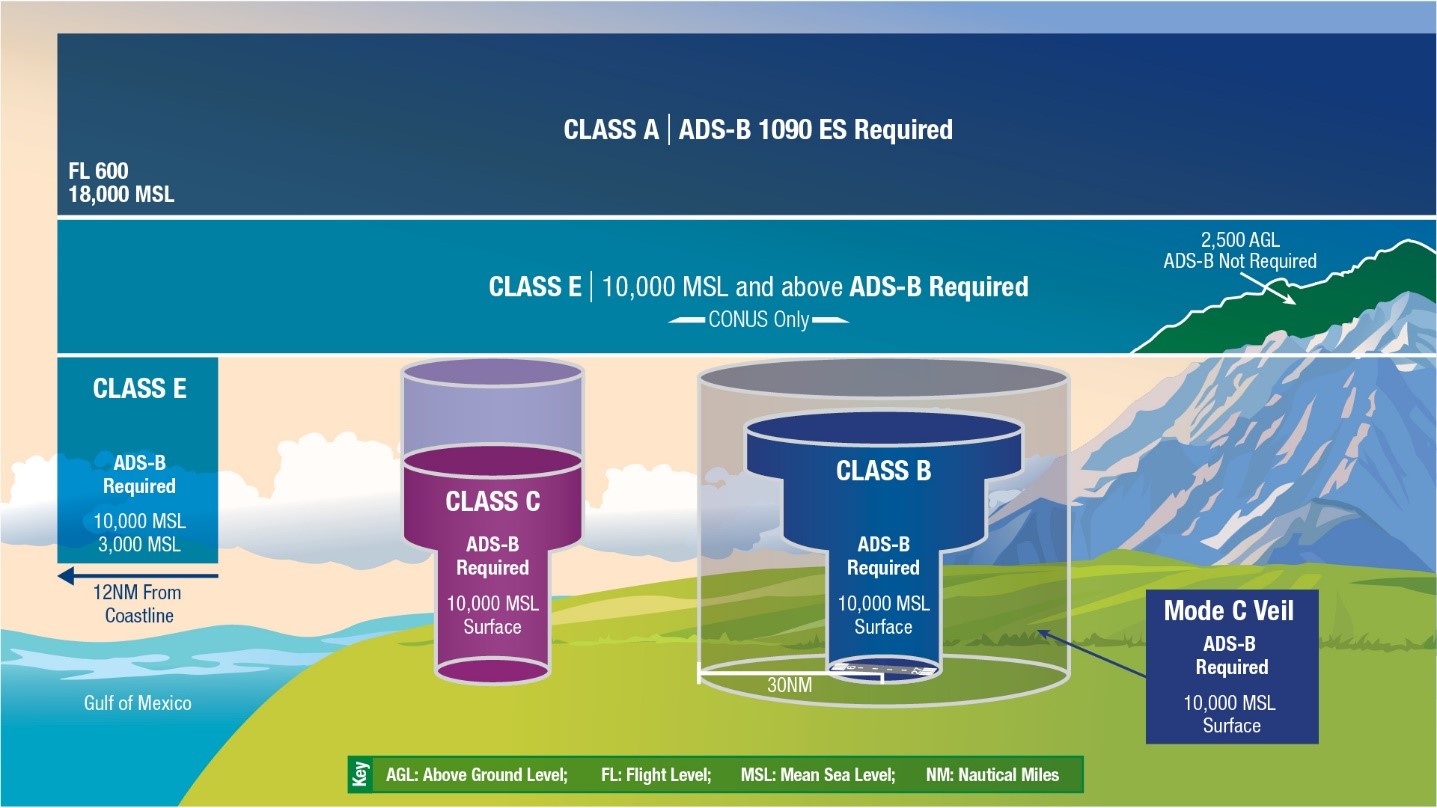 ADS-B out (you send where you are and where you are going) is required in the A, B, and C airspace but not below 10,000ft for class E (Figure 2) outside controlled airspace on altitudes where eVTOLS fly. While many will have it, gliders and ultralights flying in free airspace might not. And drones will not have it (certain manufacturers offer it for certain models, like DJI, but it's not mandatory).
Also, ADS-B shows you where another vehicle is but not how you shall avoid it. It's for the more advanced TCAS required for commercial airliner operations.
So what's needed?
We need all vehicles, including drones, to have ADS-B out (telling where it is and going) and ADB-S in (sucking in where others are around you and going). But we also need a function that tells the pilot what to do with this information, a TCAS-like "Sense And Avoid (SAA)" function.
This application and the rules for the avoidance algorithms are missing, and these need to emerge as a world standard. It will not work if each regulator or region has their version of a sense and avoid application. Before we have all players equipped with ADS-B at low altitudes outside controlled airspace and equipped with a "Sense and Avoid" function, we can't have a safe drone and eVTOL operation.
But before this can happen the rules for flying in this airspace has to be defined, and there we only see the first steps.