As interested parties and aviation geeks wait for EADS to make (likely not) and announce its decision (as soon as March 4) on whether to protest the USAF contract to Boeing on the KC-X aerial tanker, more updates have come in.
First is a new market share forecast by G2 Solutions of Kirkland (WA). Next is a new updated from one of our readers, who goes by the screen name OV-099. He previously provided a detailed analysis of where he thinks EADS and Boeing came out on pricing. He updates this with more Net Present Value analysis and other economic data.
Both new items are below the jump.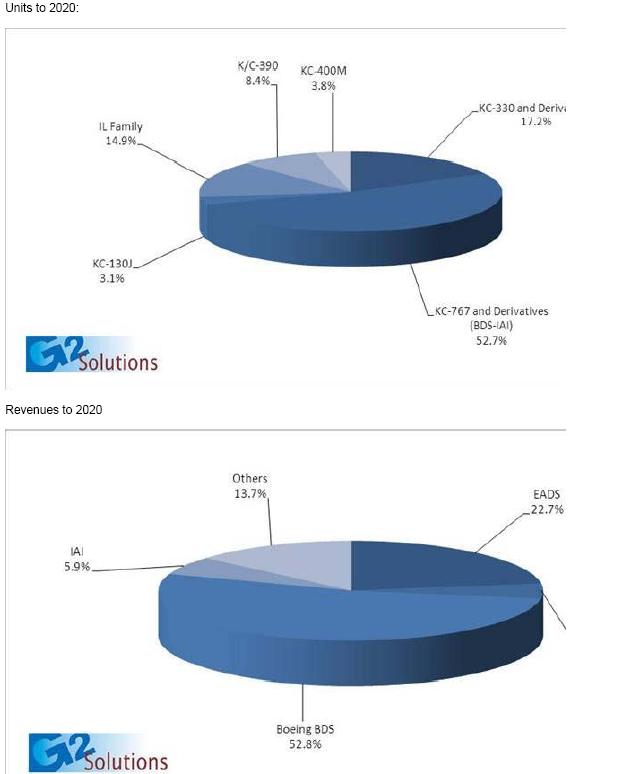 Source: G2 Solutions
Here is OV-099's new update:
I've now had the time to do the full Net Present Value (NPV) calculation  for the fuel consumption differential between the 767-200ER and the A330-200.
The original document is available here:
https://www.fbo.gov/index?tab=documents&tabmode=form&subtab=core&tabid=0a0764447cb92e22c2f6e44c3725c77f
Go to: Section L, Attachment 3 – Cost Price Evaluation Workbook.
The NPV has been calculated over both a 40 year service life — as stipulated in the RFP — as well as over a 25 year service life, the latter being the service life requirement in the KC-X  competition last time around. There are three sheets in the Excel workbook, the first being the NPV calculations for a 40-year service life, the second being for a 25 year service life, and the third being the NPV calculator with the Mid Year Discount Formula.
I've now used the fuel consumption figures  from the report  Conklin & de Decker Aviation Information prepared for Boeing.
http://www.scribd.com/doc/3737274/B767-and-A330-Fuel-Cons-Report-June-26
In my earlier analysis I used a fuel consumption figure of 11400 lbs per hour for the 767-200ER. Now, it is 10625 lbs per hour. For the A330-200, it is now 13198 lbs per hour.
| | | |
| --- | --- | --- |
| | Then Year Dollars (TH$) | Net Present Value (NPV) |
| Fuel cost differential between 762ER and A332 over 25 years | $4.601.998.961,96 | $1.504.153.320,05 |
| Fuel cost differential between 762ER and A332 over 40 years | $ 8.714.600.811,42 | $2.049.230.068,05 |
According to Norm Dicks: "I got them to change the life-cycle costs from 25 years to 40 years," Dicks said in an interview. "When you take 179 planes, and with the Airbus burning 24 percent more fuel than the Boeing plane, that's a big number. It could range from a $4 billion to $10 billion difference. That had to help them in a big way."
Well, it seems to me that Norm has been talking about  "Then Year dollars" (TH$). In fact, Norm's "contribution" can be calculated quite easily.  It is in the order of $545 million.
There has been some questions abut the  the IFARA methodology as well; it's all explained in this document (page 9):
https://www.fbo.gov/download/4b9/4b935a8203348105f1764cb9da1893b6/M001_836_AESG_Solicitation_Provisions_in_Full_Text_(Sep_2009)–25_Sep_09.pdf
Now, The NPV of the fuel consumption differential between the two aircraft has been reduced by about $450 million over my earlier estimate. That means Boeing's Total Proposed Price should be $29,1 billion, and that the Average Unit Price should therefore be $162,6 million.
It's worth mentioning that I believe these estimates are quite conservative; they are not meant to predict the exact pricing of EADS' and Boeing's offers;  they are rather meant to constitute an upper bound to the price estimate.  In fact, I tend to believe that EADS went below  $169 million in Average Unit Price (AUP).  Also, even though that I've used Boeing's figures for fuel consumption, I believe that the actual difference in fuel consumption is somewhat less. The wing of the A330-200 is reportedly 20 percent more efficient than the one on the 767 during take-off and climb, and 10 percent more efficient during cruise. The average fuel consumption figures are valid for the average sector lengths for the 767-200ER and the A330-200 (8-10 hrs). A tanker flying training sorties will not fly for so long and will typically do a few touch and go's as well. Therefore, the fuel consumption differential between an A332-MRTT and a KC-46A  should be less than 25 percent during these phases of a training sortie
Finally, I believe the most interesting result from this analysis is that the IFARA price adjustment  –depending on the actual MILCON costs – is bigger than the Fuel Burn and Milcon adjustment put together. The Air Force said that they