Boeing announced the name of its new 737 re-engined aircraft and like Airbus for the A350 XWB, there is now and X-Factor with Boeing: the 737 MAX-7/8/9.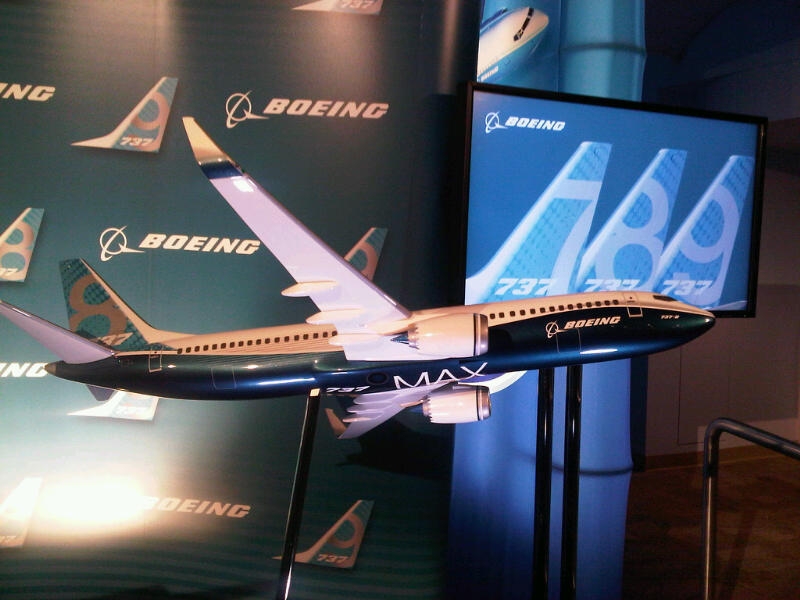 Precise details on the MAX remain uncertain; Jim Albaugh, CEO of Boeing Commercial Airplanes, said engineering is still deciding whether to go for a 66-inch or 68-inch fan diameter for the CFM LEAP-1B. Although Albaugh said it is believe the larger fan still will not require a longer nose gear, with a ripple-effect of changes to the fuselage, he added that there is a contingency determined if a longer gear proves necessary with the larger fan.
Albaugh said final design configuration is still some weeks away.
But Albaugh said that design changes will be minimal to the airplane, confined largely to those associated directly with the new engine. There are minor aerodynamic improvements and there will be some additional fly-by-wire features. There will not be a new cockpit, he said, because customers want commonality with the 737NG cockpit.
Albaugh acknowledged there will be at least some FAA re-certification required in connection with the re-engine but it remains to be seen how much re-certification will be needed.
As noted in our earlier post, Boeing claims its MAX is more efficient than the A320neo. The comparisons cited in the press release and the earlier post matches up the 737 MAX-8 to the A320neo. In a sidebar press conference after the main event, Nicole Piasecki, VP of Business Development and Strategic Integration, said the assumptions in reaching this conclusion are:
500nm;
162 seats for the 737-8, 150 for the A320neo. Airbus reconfigured the NEO to accommodate 153 seats, but Boeing sticks with the current figures because Boeing could add three seats to the 737-8, so the 12 seat advantage for the 737 remains, Piasecki said;
15% fuel savings for the A320neo, including sharklets;
Boeing assumes performance improvement programs for the 737 but none for the A320neo; and
A 20%-25% maintenance cost advantage for the 737 (Piasecki could not recall precisely which figure was used).
Piasecki said the Boeing advantages for the 737-7 and 737-9 are smaller over the A319neo and A321neo, but that Boeing still has one. She added that Boeing is studying upping the gross weight of the 737-9 to give it closer range to the versatile 757 but no decision has been made.
(When we have a chance to transcribe our taping, we'll add some detail in a future post.)
Airbus sniffed at Boeing's claims.
"After more than 1,200 orders and commitments for the A320neo, Boeing's decision to follow our strategy and re-engine the 737 seems more than overdue," an Airbus spokesman. Airbus' neo business case is based on the new technologies available today (engine and aerodynamics). We do not see this strategy changing as a result of our competitors' long awaited conclusion to also offer a re-engined aircraft."
"It was inevitable that Boeing would put a new engine on their classic 737," said John Leahy, COO Customers, in a statement emailed to us. "But Airbus has the same engine, and we also have a modern, fly-by-wire airframe. If you were an airline CEO, which would you choose?"
Finally, the spokesman added, "I see that Boeing still hasn't fixed the fan size — and therefore any assumptions on their part (and hence any comparisons) at this stage are pretty much null and void."
Albaugh said the five unidentified airlines placing commitments for 496 airplanes–enough to skip Authority to Offer and go straight to a program launch–come from US and non-US airlines. Only American Airlines has publicly committed to the airplane. Southwest Airlines is widely assumed to be one of the five, but our sense is that they are not quite "there" yet–but are not far behind if they are not.