Long time readers know that we don't think much of the veracity of data filed with the US Department of Transportation under Form 41, detailing maintenance and fuel costs. We know from a consultant who helped an airline create its methodology for filing the data that the airline "fudges" the methodology to distort the data for competitive reasons.
Boeing has cited Form 41 data for years in making its comparisons between the 737 and the Airbus A320. A key piece of information Boeing uses is the maintenance cost data, in which Boeing claims the 737 was up to 29% less costly to maintain than the A320. This comparison in particular drives Airbus crazy, and officials say the Form 41 data is "garbage."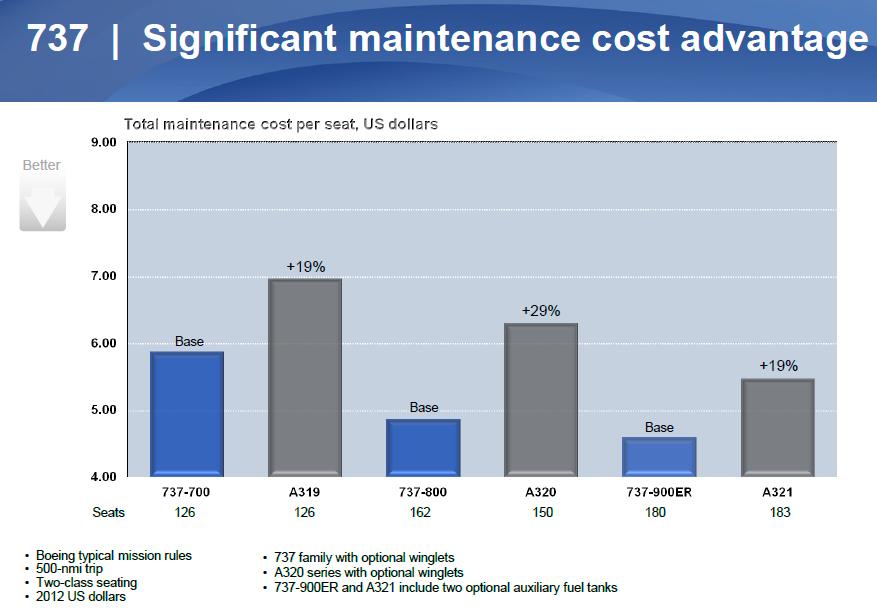 Boeing also previously used a study from IATA from 2006-2009, but dropped that in this year's comparisons at the pre-Paris Air Show briefings.
Boeing also relies on DOT 41 data for fuel comparisons.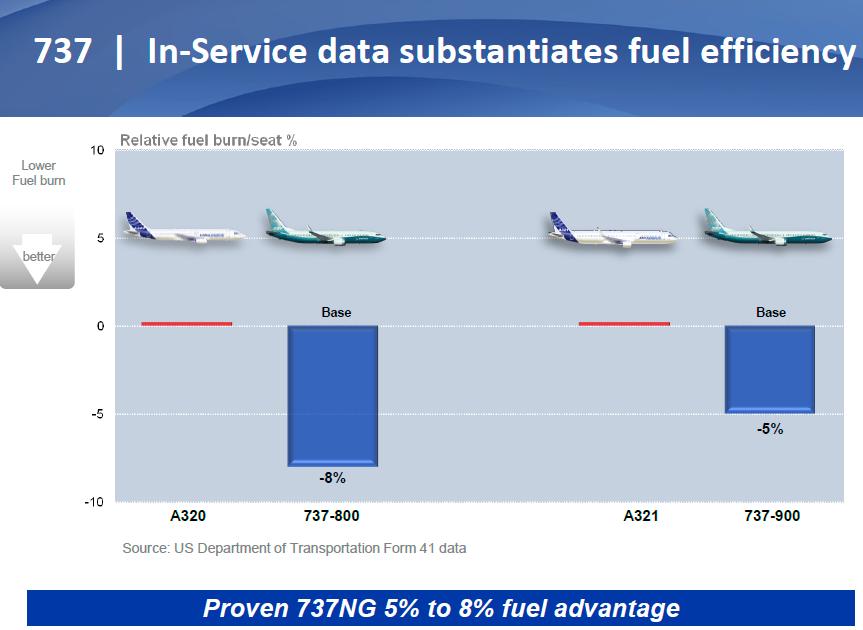 Beverly Wyse, VP and general manager of the 737 NG program, emphasized the reliance on DOT data in the comparisons.
"You don't just have to believe us," she said during the briefings. "We know that out there in the market 'Airbus says,' 'Boeing says,' and it's hard to find the truth, so wherever we can we're trying to use independent sources to substantiate the information that we are providing you. This data actually comes from the US department of Transportation Form 41. Depending on the model, and the configuration of the aircraft, the Dash 800 compared to an A320 or the A321 compared to the 900ER, you'll see between 5% and 8% better fuel efficiency for the 737."
Wyse credited the 737's rival with good dispatch reliability, a rare Boeing compliment of the A320. But she claimed the 737 was nonetheless better.
"The A320 and 737 both have incredible reliability. Anything with 99 point something reliability is something to be proud of. The simpler design of the 737 contributes to 20% lower maintenance costs resulting in 67 fewer days out of service," she says.
Given the reliance on DOT Form 41 data and our open doubts about using this data, we followed up with a series of questions to Boeing. Here is the exchange.
Boeing cites DOT 41 data in claiming the 737NG costs 20%-24% less on maintenance than the A320. First, DOT 41 data is crap. The airlines manipulate the data to mask what their true costs are from competitors. So how does Boeing purport to un-crap it?
DOT F41 data is a good source because it has rigorous reporting processes, contains constant costs in U.S. dollars, and includes reported data by operators who maintain both aircraft fleets, insuring consistent accounting practices.  But it is not the only source of data for our claims.   That goes toward your second question…
Secondly, Bev in one-on-one said, well, Boeing compares maintenance schedules between the 737 and the A320. Which is it? DOT 41 or company manuals?
The Maintenance Schedules or Check Intervals (that is the interval between performing various levels of Checks, typically classifieds as A, C and D-Checks) are obtained from our company manuals and for the A320, from industry publications and conferences. Specific A320 check intervals are periodically announced in Airbus press releases, journals and conference papers. It may be noted that F41 data provides a look at historic data while the Maintenance Planning Document (MPD) provides the check intervals for the future occurrence of check events. The continuous improvements that occur in the Boeing MPD usually result in even lower maintenance costs to airlines than being currently reported in F41 data. Our focus is to enable the airlines to continuously reduce their operating costs including maintenance costs through better product and services.
Third, I know from my own sourcing from within Boeing that to get to 24%, Boeing has compared new 737s to the oldest A320s using the earliest engines. When new-to-new is compared, the delta is 4% in favor of Boeing. Bev responds to this that this is a fleet-wide analysis.
Bev is absolutely correct; we use fleet-wide data in our comparison. There are many differences in the fleets of different airlines, like airplane age and the average stage length (Fhrs/Trip). Both affect maintenance costs. To enable true comparison, maintenance cost is normalized for a common airplane age. Since A320 is usually an older airplane the normalization process actually reduces the A320 costs to bring it to say a level of 737NG airplane age (say 8 years). Without normalization for age, the cost difference would be an additional 4 to 5% to the advantage of 737NG, but we diligently apply our processes while showing the relative cost and remove this fleet age based difference .  Similarly, costs are normalized for stage length and some other factors. All these normalizing processes are approved by the IATA Maintenance Cost Task Force of which both Boeing and Airbus are also members and uniformly used by most of the industry. We compare costs and do modeling in our tools on basis of the normalized costs.
In summary: All maintenance costs are compared on basis of like airplane age. Our multi level data analysis is for "as reported data", normalized data and data from airlines operating both airplane types. In each case, the airframe costs for the 737NG are lower and on an average 20 percent lower. 
Fourth point: If this is a fleet-wide analysis, how is this possibly fair? The NG didn't enter service until 10 years after the A320, so maintenance on aging aircraft skews everything.
Maintenance cost data is normalized to the same age level for instances where the airplane ages are different. This is done for each airline and then grouped together. The analysis ensured we were comparing like-aged aircraft not the entire fleet. By that comparison, the 737 has about 20% (+/-) lower airframe maintenance cost than the A320. But consider that there also are a number of other factors …
Five facts that drive lower maintenance cost for the 737:
1. Newer simple value added design
2. Lighter weight, smaller size;
3. Fewer systems
4. Fewer installed components
5. Longer intervals; fewer maintenance visits
Airlines believe and give us credit for our maintenance story. 
If there were truly a 20%-24% maintenance delta, why would anyone buy the A320? It doesn't all come down to price, you know. The A320ceo evenly splits the market with the 738 but the A321ceo outsells the 739 by a wide margin and the neo widely outsells the MAX.
Maintenance and its cost is only one of the criteria by which airlines judge airplanes, and a relatively small one at that. Airframe Maintenance is usually 4 to 5 percent of cash operating cost. However, maintenance and reliability plays an important role in the operational experience for an airline. Price is an important factor in airline decisions, but you are correct that it doesn't all come down to that. As you're aware, for example, there can be political issues, or even funding issues.  As for the division of the single-aisle market, we are very aware of the inroads Airbus has made in its relatively short existence and are very much motivated by that.  Arguably, that's another reason some airlines opt for one plane or another. So, too, is the ability to deliver an airplane when an airline wants or needs it. The on-time reliability of one model or the other can be a factor (while both companies produce reliable airplanes, Boeing's 737s have better on-time statistics).  Too, some airlines prefer to stick with airplanes compatible with their installed fleet to reduce maintenance, training and scheduling costs. The choice is very complex.
I note, too, that this year Bev dropped citing the 2006-2009 IATA maintenance data. How come?
IATA data is used extensively within our own internal analysis. However, we acknowledge that there are some issues with IATA data. IATA airlines do not report data consistently over a long period. They may drop out entirely, miss reporting in some years and new airlines may join for a period. The Form 41 (US DoT) data is mandatory to report and usually aligns with the airline's Annual Reports reported costs. In addition, variation in currency exchange rates becomes come into the picture. Airlines report in their own currency and that is converted to U.S. dollars. Inconsistency of reporting and the additional currency variable frequently clouds the data.
Bev says, though, that what tipped its use in the end in these slides, however, was that the data we had at the time was old.
We asked Airbus for a response to some of these questions. Engaged in the Air Show this week, we have yet to hear back.