Right to Work or Right to Worse: One of the more controversial issues in the relationship between Boeing and the IAM is Boeing's continuous threat of removing work from union-heavy Washington and putting it in Right to Work states. South Carolina, of course, is at the top of this list.
KIRO Radio (CBS-Seattle) has a story about a Seattle transplant to Boeing's Charleston plant who finds some interesting differences between the two locations.
As the IAM prepares to vote Wednesday whether to accept a contract extension that includes significant give-backs in exchange for landing the 777X Final Assembly Line and wing production, Boeing holds the prospect of locating the work in Right to Work states. These have been assumed to be or identified (though not by Boeing) as South Carolina, Texas and Utah. Boeing has facilities in each of these states.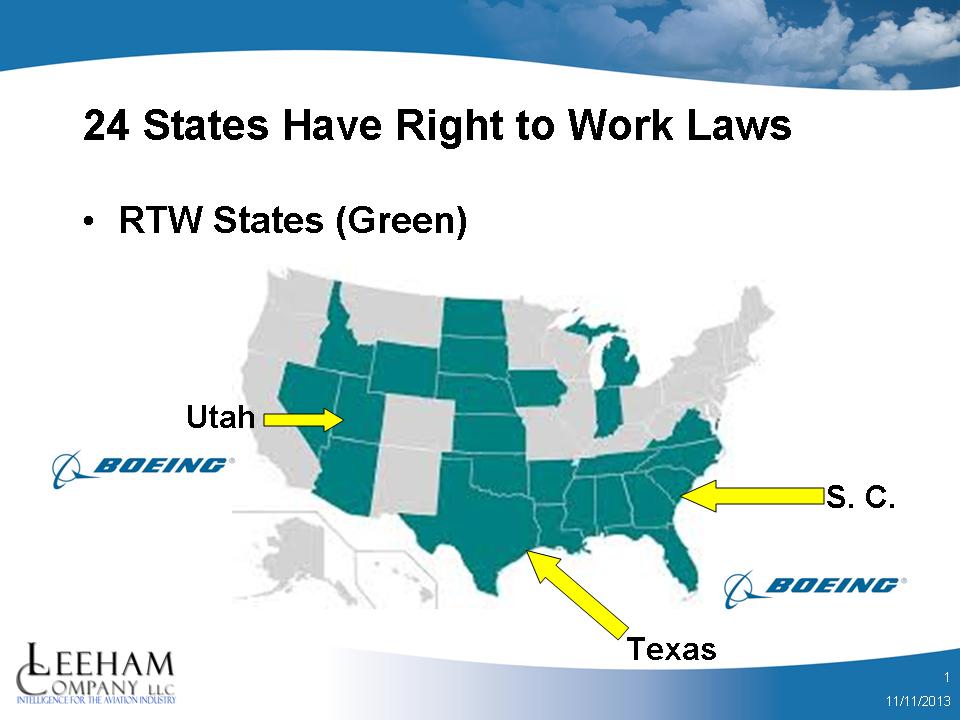 As Readers know, we have suggested Washington needs to become a Right To Work state, which labor characterizes Right To Worse. It's not that we favor RTW per se (though we do but not dogmatically), it's more driven by the fact that Washington's competition is RTW–and Boeing is very effectively using this as leverage over the Washington unionized labor force, and to extension, over the Washington Legislature when it compares our state's cost of doing business with other states.
Meantime, Boeing has launched its website with its view of the contract proposal.
This is the letter Ray Conner, CEO of Boeing Commercial Airplanes, issued last week.
Middle East Influence: Aviation Week has a good piece about the evolution of the influence of the Middle Eastern airlines on aircraft design. Flight Global has this analysis of the Airbus A350-1000 vs the Boeing 777X in advance of the Dubai Air Show (free registration required).
Boeing IAM-Update: The Seattle Times has the latest from IAM 751 and from Boeing pending the vote tomorrow. Ray Conner, CEO of Bo9eing Commercial Airplanes, said Boeing is "under siege" from foreign competitors, including the Japanese, Chinese and Russians.
Maybe so, but Boeing has been helping these countries and their aerospace industries by outsourcing to them.
We also find it difficult to have sympathy for Boeing at a time when it is posting record profits and undertaking billions of dollars in stock buybacks instead of plowing the cash flow back into research and development instead of designing derivative airplanes.