Public pressure is building on Airbus to launch a re-engining of its A330 medium-sector, twin-aisle, aging airplane as CIT Aerospace and Air Lease Corp. officials joined Delta Air Lines and AirAsia in their previous overt calls for development of an A330neo. Lufthansa Airlines is understood to be seeking a neo behind the scenes.
GE Aviation and Rolls-Royce are encouraging Airbus to proceed with a neo as a platform for their GEnx and Trent 1000 TEN engines. The GEnx is used on the Boeing 747-8 and the 787; the Trent 1000 TEN is used on the 787.
Speaking before the annual convention of the International Society for Transport Aircraft Trading (ISTAT) this week in San Diego, CIT—a lessor with major orders for the A330, including being the launch customer for the 242 ton version of the A330-300—said that Airbus is at a crossroads with the airplane and it needs to decide within the next six months whether to offer the A330neo with an entry-into-service of 2017 or 2018 or it will miss the market opportunity to do so with a later EIS.
We previously reported CIT's rationale supporting a neo launch. As we previously noted, CIT sees the Airbus parity with Boeing in the twin-aisle sector at risk if Airbus doesn't proceed with the neo. This is consistent with our own analysis.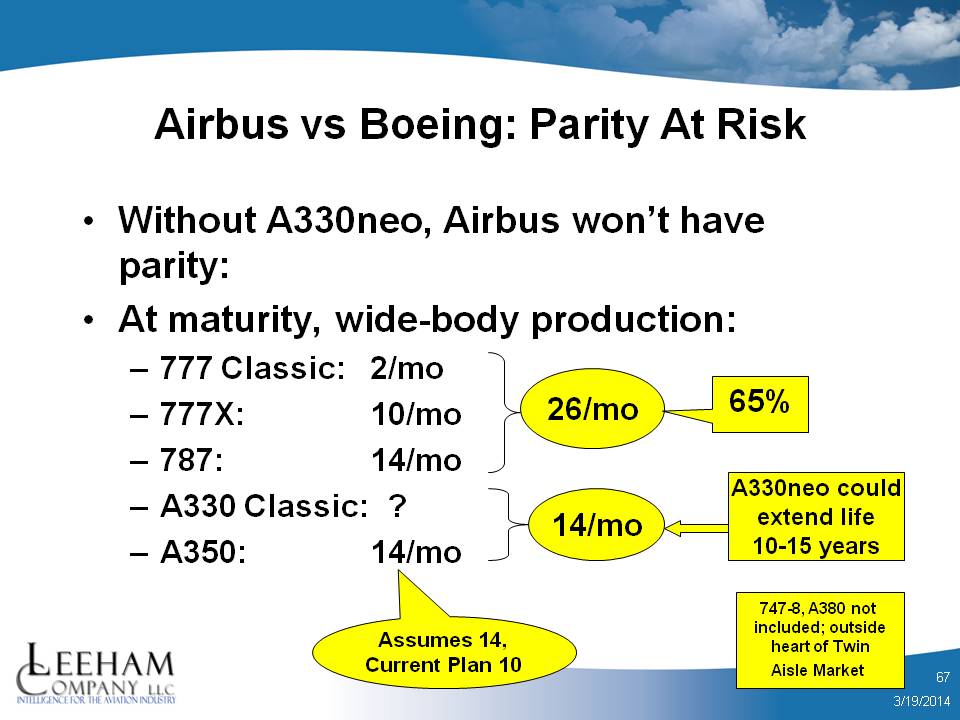 Air Lease Corp. CEO Steven Udvar-Hazy, who has purchased more Airbus aircraft than any other customer during his tenure as CEO of International Lease Finance Corp. and now of ALC, said that the A350-800 is a marginal airplane that would be dropped if Airbus would proceed with the A330neo.