As some customers press Airbus and Boeing for a replacement for the Boeing 757-200W used on selected trans-Atlantic, long-thin routes, Flightglobal floated a suggestion that that the Boeing 767-300ER might be a possible replacement.
The last passenger 767 was delivered this month. The line remains open with the 767-300ERF and the early stages of the USAF KC-46A tanker. A cut-price 763ER might be cheap enough to offset the operating cost disadvantage, or so the theory goes.
The 763ER is the right size in a three-class configuration—218 seats–and will be in production for many years to come due to the KC46 production line. We know Boeing sold the 763ER for a very low price in connection with compensation for the 787 delays, and we know that at a very low price, the 763ER economics do match the 787's operating costs. But how does this stack up against the 757 in Flightglobal's hypothesis?
Not very well. We did a quick economical analysis with our proprietary model.
We took the 767-300ERW (W for winglet) and compared it to the 757-200ERW and 757-300ERW. We also added the Airbus A321neo and Boeing 737-9 MAX to check where the modern benchmark is when the missions are within their capability.
To make an apples-to-apples comparison, we flew a 3600nm mission which is at the range limit for all except the 757-200ERW (4100nm) and 767-300ERW (6100nm). We equipped all aircraft with a normalized 2 class cabin with business lie-flat seats at 60" pitch (4 abreast B/E Aerospace Diamond for all except 767 where we use 5 abreast) and then economy at 32" pitch using Zodiac 5751. The normalized cabins turned out as follows; 752 24J:140Y, 753 28J:162Y, 767 32J:191Y, 739 22J:123Y, 321 24J:137Y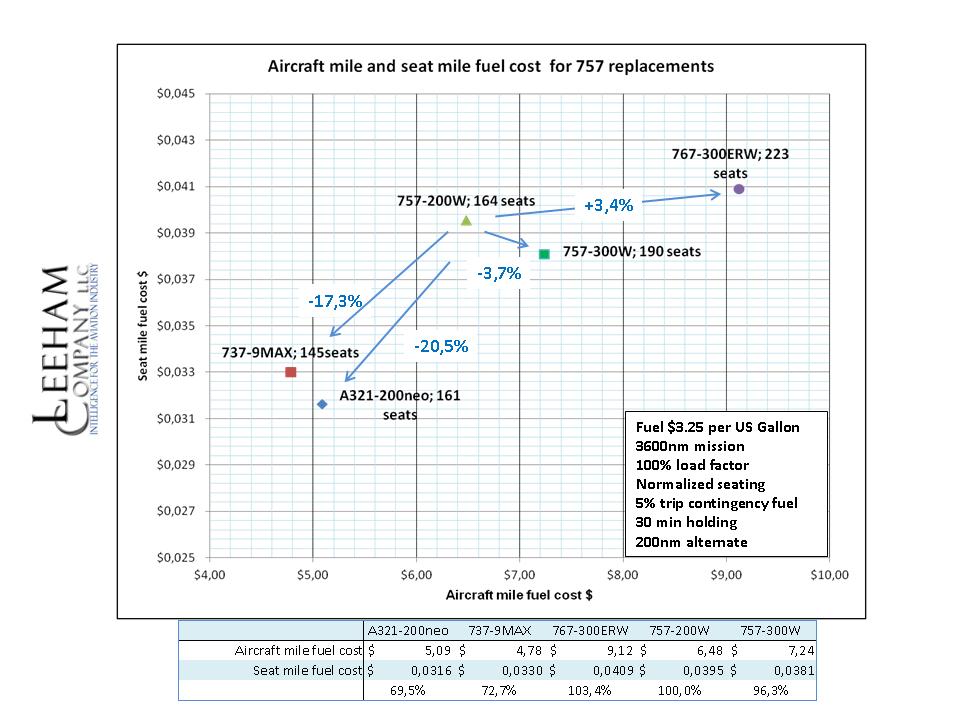 The exercise was sobering. Compared to our benchmark, the 757-200, the 767 consumes 3.4% more fuel per seat in addition to having higher capital and maintenance costs. The upgraded A321neo and 737-9 MAX have ~20% lower per seat fuel cost than our benchmark. Add to that lower maintenance and capital costs and one realizes that a dual aisle long range aircraft like the 767 shall remain just that, a long range dual aisle aircraft enjoying applications where it can still fill a role.
For missions where the 737-9MAX and A321neo do not have the range, we need something new. Until then the 757-200ERW will have to soldier on.
Just to put the comparison range in perspective, 3600nm is OK for West Europe to the New York area but not much further south or west, and that is only if there are no strong winds. Here the distances to the New York area from some well known European hubs (Courtesy Great Circle Mapper):
From To Initial
Heading Distance
EWR (40°41'33″N 74°10'07″W) CPH (55°37'05″N 12°39'21″E) 43.0° (NE) 3361 nm
EWR (40°41'33″N 74°10'07″W) FRA (50°01'35″N 8°32'35″E) 50.4° (NE) 3362 nm
EWR (40°41'33″N 74°10'07″W) STO (59°20'N 18°03'E) 37.5° (NE) 3427 nm
EWR (40°41'33″N 74°10'07″W) CDG (49°00'35″N 2°32'52″E) 53.4° (NE) 3171 nm
EWR (40°41'33″N 74°10'07″W) TLS (43°38'06″N 1°22'04″E) 60.0° (NE) 3254 nm
EWR (40°41'33″N 74°10'07″W) BCN (41°17'49″N 2°04'42″E) 62.2° (NE) 3344 nm
Given prevailing westerly winds and heavier cabins, catering etc we really need 4000nm+ range to operate TransAtlantic flights reliably. Therefore the airlines will continue to use the 752 and there is a need for a true 757 replacement.
By Leeham Co EU