16 October 2015, ©. Leeham Co: Airbus announced this week how it made an Ultra Long Haul (ULH) aircraft out of the long haul A350-900. The resulting A350-900ULR (Ultra Long Range) enables Singapore Airlines to reopen the famous direct "Flight 21" to New York.
But Singapore's press release also talks about US West coast destinations, the first being Los Angles. They released this picture: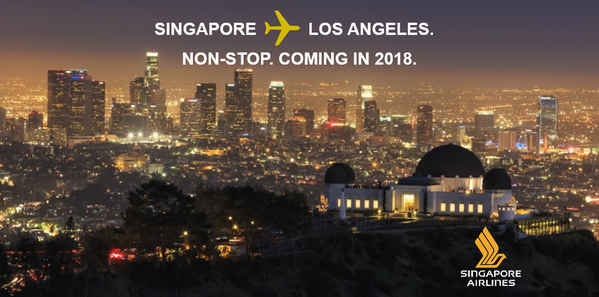 Reading the many comments around how an aircraft like A350-900 can reach such longer range, it can be worth going through the basics on how different parameters affect range and what Airbus or any other OEM has to consider when they want to increase the range of an existing aircraft.
We will do that from a slightly different angle than normal. We will show how a pilot would think about how he can get an aircraft with more range. Pilots reason in a different way to design engineers. They are better served by thinking on the aircraft's range performance as endurance, meaning how many hours can we stay aloft. This works better when one plans with the prevailing weather on the route.
We will now take it step-by-step and explain which parameters matters for the pilot and which do not and how he gets his ULH aircraft.
An aircraft's endurance
An aircraft project team designs an aircraft to fly a nominal payload (a 100% filled cabin with passengers and their bags) to an aircraft's nominal maximum range. For the A350-900, this is given as 325 passengers in a three class configuration (Business, Premium economy and Economy) to a range of 7,590nm.
Pilots that fly a mission which will be close to an aircraft's maximum capability think differently. They think about how many flying hours the aircraft can produce with the mission's payload. The reason is that his operational range calculation is always considering the weather and especially the winds. The pilot examines the route at hand and gets the winds along the route from the Meteorological briefing. He then takes the aircraft cruise speed (490kts for A350-900) and deduces the headwinds.
Out comes the number of flying hours the flight will take. Now he multiplies the hours with the fuel consumption per hour (~5,800kg/hr for A350-900) and starts to check what reserves he will need and if there is sufficient room for the total fuel he needs for the mission, including taxi-out fuel (taxi-in fuel at destination is taken from reserves, he is safely there).
For the reserves, he plans with the regulatory/company route reserves and the fuel he needs for any circling and alternate landing place in case of bad weather at destination. It will be around 7-9 tonnes of fuel dependent on route and weather. Then he adds that to the trip and taxi fuel and tells how much fuel he wants in the aircraft.
Long flights
If the pilot wants to fly a long flight, he needs many hours of fuel. In a normal Singapore Airlines A350-900, he would find they have 14-15 hours of cruise fuel dependent on cabin configuration, load factor (how many percent of the seats are taken) and weather, Figure 1.
If Singapore wants to fly missions which are 4-5 hours longer, it needs to find an additional 24 tonnes of fuel. The left bar shows that in this case the payload would have to be reduced to seven tonnes. This is the equivalent of 70 passengers, not economical. Singapore therefore asked Airbus what it could do to provide flights with up to 18-19 hours endurance.
Airbus saw it could provide an additional 2.1 hours by going to 280t instead of 268t Max Take-Off Weight (MTOW). Airbus knew since the test flights that this margin was available, both from a take-off performance perspective as well as structurally with minor modifications. Singapore Airlines added that it could accept a reduced configuration where especially the payload was reduced to max 170 passengers. This released another 15 tonnes or 2.6 hours. Finally, the 19 hours flights are given as total flight time (block time in pilot language); 0.6 hours of that is time on ground at both ends which consume little fuel.
Fuel limited or not
We know now we want an aircraft with 18 hours trip time (pilot-speak for actual flying hours) minimum. The way to get there is higher MTOW (280t), lower payload (16t instead of 31t) and if possible, reduced empty weight (OEW). In the case of a more premium-heavy flight, this is not possible, as the business seats weigh five times more than an economy seat and the premium economy is double a standard economy seat.
We have guessed that the premium-heavy SQ A350-900ULR version will be three tonnes heavier than their normal A350-900, carrying close to 100 business passengers and a mix of premium economy and normal economy seats for the remaining 70 seats. All-in-all, it gives the aircraft a typical max fuel load of 117t, more on the days with only 80% load factor (another 3.4 tonnes, which is 0.6 hours in addition).
But do we have room for 120.4 + 9 tonnes or more in the fuel tanks? Airbus calculates with fuel weighing 0.78kg per liter, which means we shall be able to fill 165,000l in the tanks. Should we have had the normal tank setup of A350-900 (141,000l), we should only be able to fill 110 tonnes. It would have cut our flight time with over 2 hours; we would be fuel capacity limited and could not fly to US destinations reliably.