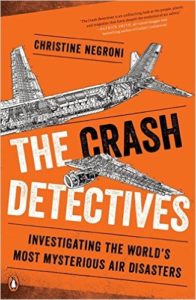 July 5, 2016, © Leeham Co.: The Crash Detectives, by Christine Negroni, © 2016. Penguin Books. Available on Amazon.com.
As an avid follower of The Smithsonian Channel's "Air Disaster" series and The Weather Channel's "Why Planes Crash," as well as knowing Christine Negroni, I was anxious to read her new book, The Crash Detectives. (Negroni is also the author of Deadly Departure, about TWA Flight 800.)
Negroni is no wanna-be aviation disaster geek. Her resume qualifies her to understand aviation accidents and speak and write with knowledge about them.
Negroni writes about dozens of aviation accidents and mysteries. Some of these are well known (the de Havilland Comet I accidents, for example). Some were miraculous outcomes (United Airlines 232, US Airways 1549, Qantas Airways 32). Some are ancient history (pre-World War II, including the disappearance of Amelia Earhart.)
Among the most interesting are the accidents in which hypoxia of the pilots are involved. These make fascinating reading. And it is hypoxia that is the leading cause of Negroni's theory of one of commercial aviation's most infamous mystery.
MH370
I truly got to know Negroni when Malaysia Airlines Flight MH370 disappeared. By the second day, I felt the flight maneuvers indicated the disappearance were the result of a criminal act. I carefully avoided pointing the finger at the pilots, however, noting that there could have been a cockpit intrusion leading to the subsequent flight maneuvers. Nothing I've learned since changed my conclusion.
Negroni, whom I hold in high regard, came to a different conclusion within a week. She believed then and believes now that a massive electronics failure caused the two transponders and five radios to fail and an explosive decompression of some kind left the pilots victims of hypoxia. The resulting effects caused the co-pilot to make erratic decisions, while believing he was making the correct ones.
We've disagreed ever since. We still do. Negroni spends the first chapters of her book advancing her theory and what she "envisions" happened. Negroni criticizes those who point an accusing finger at the pilot of the flight, who suggest he was criminally responsible for the disappearance. She points out there isn't solid evidence to support this theory.
Negroni doesn't really have solid evidence, either, to support her theory. She raises solid questions that have to be answered, but in the end her hypothesis is just as iffy as any other. I've talked with a former investigator with the National Transportation Safety Board, a current safety expert who is a former airline pilot, another retired airline pilot and two former Boeing 777 test pilots who worked for Boeing (one of whom also flew as a captain on 777s for Asian airlines and now trains pilots to fly the 777). All believe MH370's maneuvers were the result of cognizant human inputs into the Flight Management System, not the result of hypoxic-induced errors. I circled back with the former test pilot who now trains others and went down Negroni's theories one-by-one. He had solid reasons why these were unlikely scenarios.
No doubt Negroni would line up her experts with mine to support her theory. Only if and when the flight data recorders of MH370 are found, and assuming readable, will we ever know which theory is correct.
Boeing 787
Since I was familiar with many of the accidents examined by Negroni, for me the most interesting part of the book—even more so than MH370—was her story about the Boeing 787 and its battery issues. I was quite familiar with this story as well, having covered the story for LNC as well as being a resource for scores of media. Still, Negroni details some technical information and Boeing testing/development mentality that doesn't shine well on the company. This no doubt is why Boeing refused to cooperate with Negroni or answer any questions.
The Federal Aviation Administration and the Japanese companies and authorities don't come off very well in Negroni's account.
Other probes
Perhaps most eyebrow-raising are the accidents in which Negroni details either investigative cover-ups or just plain incompetence. Global aviation safety depends on honest, full investigations. (These also need to be without recriminations, factors all-too common in France, Asia and other parts of the world. Negroni doesn't go into these, but the comment is relevant in this context.)
My continued disagreement with Negroni aside over MH370, for which she nevertheless presents theories that are well worth discussing, this is a must-read for those caught up in the whys and hows of aviation accidents.