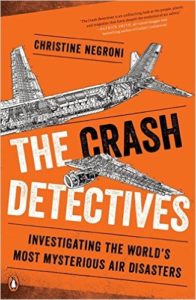 July 5, 2016, © Leeham Co.: The Crash Detectives, by Christine Negroni, © 2016. Penguin Books. Available on Amazon.com.
As an avid follower of The Smithsonian Channel's "Air Disaster" series and The Weather Channel's "Why Planes Crash," as well as knowing Christine Negroni, I was anxious to read her new book, The Crash Detectives. (Negroni is also the author of Deadly Departure, about TWA Flight 800.)
Negroni is no wanna-be aviation disaster geek. Her resume qualifies her to understand aviation accidents and speak and write with knowledge about them.
Negroni writes about dozens of aviation accidents and mysteries. Some of these are well known (the de Havilland Comet I accidents, for example). Some were miraculous outcomes (United Airlines 232, US Airways 1549, Qantas Airways 32). Some are ancient history (pre-World War II, including the disappearance of Amelia Earhart.)
Among the most interesting are the accidents in which hypoxia of the pilots are involved. These make fascinating reading. And it is hypoxia that is the leading cause of Negroni's theory of one of commercial aviation's most infamous mystery.