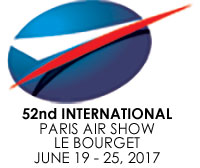 June 18, 2017, © Leeham Co.: The commercial offering of the venerable Lockheed Martin C-130J, the LM-100J, is here at the Paris Air Show, along with its rivals, the Embraer KC-390 and Airbus A400M.
The crew with Lockheed Martin waves off the competition.
Neither competitor can match the LM/C-130, they say.
Glider wing, better engines
The C-130 has a glider wing to the swept wings of the KC-390 and A400M, giving it better short-field performance, they say. The big difference is in the engines.
The LM/C-130 engines enable operations in completely unimproved field operations. The KC-390 can only
operate in semi-unimprovemed and improved environments, the crew says. The A400M's engine difficulties are infamous.
The Lockheed Martin has the slowest cruising speed of the three, about Mach 0.50 vs Mach 0.6 for the A400M and higher for the KC-390. But the LM/C-130's glider wing and slower speed makes if better suited for a wider variety of missions, including fire-fighting where tight maneuverability is needed, loitering and low-level search and rescue operations, the crew says.
Commercial interest
The last time the C-130 was offered as a commercial aircraft was in the 1960s; Delta Air Lines, which operated the airplane as the L-100 freighter. Alaska Airlines also operated the L-100.
There have been some commercial sales of the LM-100 and the company hopes to land some more at the air show.
The list price is in the $50m-$60m range.