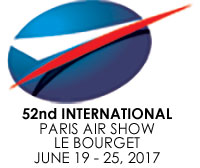 June 17, 2017, (c) Leeham Co.: It's surprising that many hall and chalet exhibits are still in a state of construction as LNC walked around the Paris Air Show Saturday, but we've noted this before.
Meanwhile, here are a few photos:
Embraer has its new E195-E2 at the show, which it is advertising heavily as a "profit hunter." This special paint job was applied by an EMB employee, not the usual paint shop.
When EMB officials received price quotes from shops, the cost was unusually high because of the detail. One of Embraer's own employees said he was a painter and could do the job. It took a little back-and-forth for officials to understand that the employee, Clodoado Quintana, was a canvass painter, an artist.
He did the job, with help from another, in his off hours.
Then officials learned the employee had never even been on an airplane.
Officials fixed that: the employee is now in Paris, enjoying his own experience of a lifetime. Here's the video.