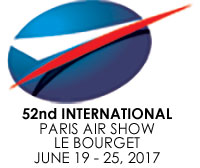 June 18, 2017, © Leeham Co.: Mitsubishi Heavy Industries (MHI) CEO Shunichi Miyanaga and the Vice Chairman of ANA Holidings, Osamu Shinobe, gave the full backing to the MRJ program today, when presenting an ANA liveried test aircraft at the Paris Air Show.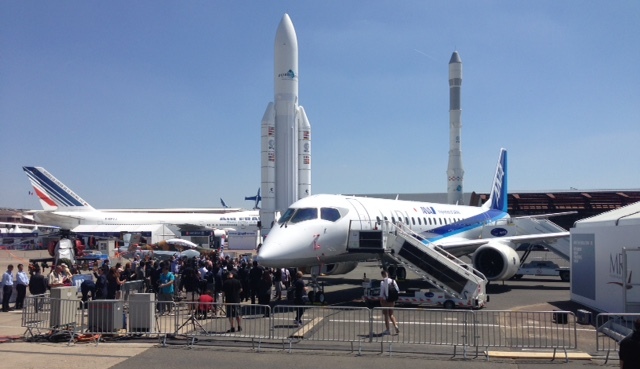 Changed leadership
The program, which has been hit by delay after delay, has now a planned delivery to launch customer ANA mid-2020. The company responsible for the aircraft program, Mitsubishi Aircraft Corporation (MAC), is a subsidiary of MHI. It was present with its CEO Hisakazu Mizutani. The  parent, the $40bn MHI, has stepped in since the January reveal that the program will have yet another delay.
From the launch at the Paris Air Show 2007 to delivery, it will now take 13 years to EIS. To ensure the project has still the full commitment from the launch customer and its owners, the Air Show presentation of the aircraft was supplemented by a common handshake in front of the aircraft, Figure 1.
"MHI and MAC, with its partners, have a complete dedication and commitment to deliver this outstanding aircraft to the customers," said the MHI CEO. "The aircraft will present Global program leadership paired with Japanese manufacturing skills."
The "Global leadership" was introduced in January to safeguard against further surprises in the program. Several Western ex-OEM managers are now leading different parts of the program.
The build quality is not the problem, though. A close inspection of the third test aircraft demonstrated the high build quality of the MRJ.
During the Q&A with the CEO of MAC, Mizutani, it was confirmed that the press reports of an earlier delivery date in 2019 is an internal target date. The official delivery date is still mid-2020 to first customer ANA.
The test program has now completed flutter testing and flight loads. Flights into known icing and lightning tests have started. The aircraft has also gone through hot and cold soaking and static strength testing is complete.