June 27, 2017, © Leeham Co.: Airbus has quietly announced it will augment the payload and range capability of the Airbus A350-1000 when certified. The latest Aircraft Characteristics for Airport and Maintenance Planning guide (ACAP) for A350 increases the aircraft's maximum weight before fuel is loaded and its maximum take-off weight.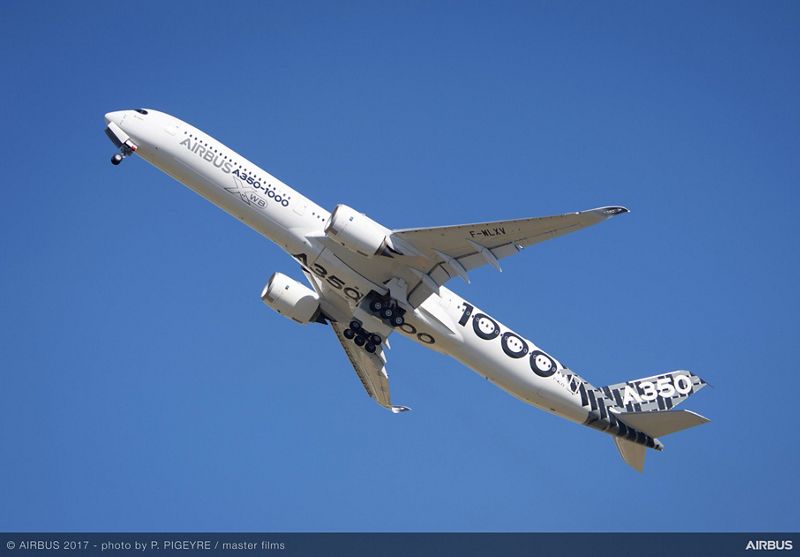 At the same time, the A350-900ULR variant's maximum take-off weight is now available as a standard weight variant (no 10).
Improvements for A350-1000
During the certification tests of a new aircraft, it's verified if an aircraft can fly with a higher load than originally planned. Static and fatigue strength tests reveal if the aircraft structure has margins. Flight tests (especially the spectacular Vmu test, the one where the tail is scraped in the runway to test minimum lift-off speed) show if the planned flight characteristics are present.
For most of these tests, the aircraft is designed with a margin. When these margins are not consumed by reality, the performance data for the aircraft can be improved. One of the most performance affecting areas are the aircraft weights.
When weights can be increased without compromises in airfield performance, the payload or range of the aircraft improves. Range is dictated by how much fuel can be filled, once the aircraft is filled with passenger and cargo (the payload).
For a given empty weight and payload, a higher Max Take-Off Weight (MTOW) will increase available fuel and therefore range. The weight increase for -1000 goes from the planned 308t for Weight Variant 1 (WV001) to 311t for WV002 and finally 316t for WV003. A 3t tonnes weight increase for fuel means 150nm additional range; the 8t gives 450nm.
The weight variants also offer a higher Zero Fuel Weight. This means more payload can be loaded before the rest of the weight has to be fuel (fuel goes in the wings and doesn't stress the aircraft as much as weight entered in the fuselage). Both WV002 and WV003 allow an additional 3t of payload before fuel. This means another 30 passengers can be loaded (if there are seats for them) or another 3t of cargo on shorter routes (below 5,500nm for a nominal aircraft).
ULR weights now available for standard A350-900
The latest guide also shows the special MTOW of the A350-900ULR of 280t as a standard weight variant, WV010. This means the standard A350-900 can be flown an additional 800nm over the range of the standard 268t version (WV000). The additional payload that can be loaded in this variant is 3.7t (MZFW 195.7t instead of 192t).