Feb. 6, 2019, © Leeham News: Bombardier's new approach to replacing aging 50-seat CRJ200s and address persistent complaints about carry-on baggage issues for the CRJ family follows an example set last year by Embraer.
Bombardier's CRJ550 is a reconfigured version of the CRJ700, with reduced seating, on-board carry-on baggage storage areas and extra legroom.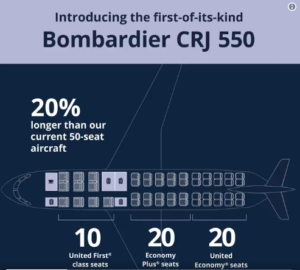 Initially, these will be reconfigured CRJ700s. Bombardier will offer new-build CRJ700s.
Embarer last year created the 70-seat E175 SC (special cabin), reducing seating from the 76-seat E175 to a 70-seat E170-sized airplane. Embraer no longer offers the E170. More legroom and greater opportunities for premium class seating come with the SC configuration.
Scope Clause-driven
The actions by Embraer and Bombardier are driven by the US Scope Clauses. Depending on the airline, Scope limits to 50, 70, 76, 90 seats and by aircraft weight and number of airplanes that can be operated by major airline partners.
Delta Air Lines' partner SkyWest Airlines was the first to accept new-build E175 SCs. United Airlines' partner, Go Airlines, will be the first to reconfigure CRJ700s to the CRJ550 standard.
It's a makeover of the existing CRJ700 cabins using ATMOSPHERE cabin and United's Polaris amenities using the length of the CRJ700. The airplane falls within Scope weight requirements, and with the new seating, to replace old CRJ200s and ERJ145s, both eligible under the 50 seat parts of United's scope clause with their pilots' union.
United initially plans to have 50 CRJ550s in operation.
Economics
The economics of the reduced seating are a challenge.
By eliminating 20 seats from the CRJ700, the per-seat cost goes up 29%. The reduced seating on the E175 SC increases CASM by 8%.
The increased CASM on the CRJ700s may work well enough for an older, depreciated aircraft but will be tough number-crunching on new-build airplanes.
But there are no clear replacements for the aging 50-seat CRJ200s and Embraer E145s. There are no new-build airplanes in production.
There are 34 CRJ700s in storage at January 1 (as well as 20 CRJ900s), a quantity that doesn't begin to match the replacement demand for the aging 50-seat airplanes.
Further, one reason the aging 50-seaters headed for retirement is their poor economics in a rising fuel price environment.
United is making the reconfigured CRJ550 part of its rebranded customer experience—a clever marketing move. But the economics as fuel prices go back up should prove problematic.