By Bryan Corliss

March 11, 2019 (c) Leeham News: Workers at the Collins Aerospace landing gear plant in Everett, WA, have approved their first union contract with the company.
Both sides can come away feeling OK with how they did at the bargaining table. But the biggest winner in these talks actually was Boeing, which now doesn't have to worry about a break in the flow of 737 landing gear for the next 40 months.
89 percent voted yes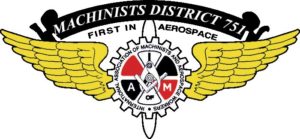 The vote took place Friday, and 89 percent of union members voted to approve the contract, according to a spokeswoman for Machinists Union District 751 in Seattle.
For the union and its members, the contract offers annual 3 percent raises and a $2,000 bonus – spread out over three payments – with the option to take the bonus as cash or put it into a tax-deferred 401(k) or a tax-free health savings account.
But perhaps the biggest plus, from the workers' perspective, was the establishment of guaranteed severance benefits (from four to 16 weeks of pay, depending on tenure with the company) and the guarantee that the union will get to negotiate terms for workers should their jobs be lost through outsourcing.
Both these were major issues for the workers, who decided to join the union in the midst of the upheaval caused by the UTC-Rockwell Collins merger that created Collins Aerospace.
Meanwhile, company negotiators can be satisfied with what they accomplished at the table. The pay increases they agreed to were moderate – especially given the tight labor market in Puget Sound – and they held the line on benefit costs.
The contract took effect immediately upon ratification. It expires July 15, 2022.
Boeing comes out ahead
Still, the biggest winner has to be Boeing.
The Collins plant does final assembly on landing gear for the 737, 747 and 767 – all programs that could ill afford a major supply chain disruption.
It's hard to see how Boeing delivers 895 to 905 jets in 2019 if its 737 landing gear supplier goes through a four- or six-week work stoppage. With all the problems Boeing's having getting KC-46s delivered to and accepted by the U.S. Air Force, delays due to a supply chain strike are about the last thing managers want.
And while Collins is only delivering six 747 landing gear shipsets a year, it probably wouldn't take much to get UPS or Air Bridge to think again about whether they could use a converted used 747 freighter instead of a new-built 747-8F – and Boeing can't afford any lost 747 orders.
With those potential nightmares out of the way, Collins and Boeing management are getting back to business this morning, while the union is considering how to parlay this successful Collins organizing drive – and recent Cadence Aerospace-Giddens contract win – into further organizing successes.
"Workers came together, chose to be represented by a union and raised their standard of living," said IAM 751 President Jon Holden. "This is a perfect example for others working for aerospace vendors in Snohomish County."