Subscription Required
Introduction
By Bryan Corliss
May 10, 2019, © Leeham News: Senior officials of Mitsubishi Aircraft Corp. said they'll announce a new concept to replace their proposed MRJ70 at next month's Paris Air Show. But they're keeping details to themselves until then.
"We've got a couple rabbits in our hat," said Alex Bellamy, the chief development officer for the MRJ program. "We'd like to keep them in our hat for now. But rabbits have a habit of bouncing."
Bellamy spoke with a handful of industry reporters Friday at a roundtable following the formal grand opening of Mitsubishi Aircraft Corp America's new office in Renton (WA). The event – which included the ceremonial opening of sake barrels with hammers–attracted senior executives from MITAC's headquarters in Nagoya, Japan, and local business and government leaders.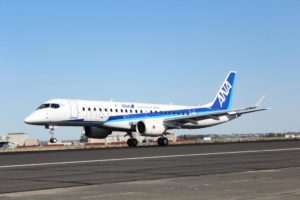 Mitsubishi is flight-testing the 92-seat MRJ90 in the skies above Moses Lake (WA). But in Nagoya, engineers are working on a clean-sheet design for a 76-seat, three-class regional jet.
It's what the market is calling for, Bellamy said, and right now, there's a declining number of competitors willing to provide it.
Summary
One competitor is going, the other doesn't have a modern, Scope-compliant aircraft.
50-years opportunity.
Combining comfort and new-technology economy
'Once in 50-years Opportunity'
MITAC (insiders pronounce the acronym "me-tack") is entering into the regional jet market during what Bellamy calls "maybe a once in 50-years opportunity." Bombardier has decided to exit the regional jet market, leaving only Brazilian side of the Boeing-Embraer joint venture actively producing the smaller jets. Chinese and Russian regional jets are in service, but are years away from being strong competitors.
And while the competition is shrinking, there does appear to be real demand for regional jets. In the United States, 63% of airports with commercial jet service are served solely by regional jets, MITAC executives say. More than 90% of the USA's airports have regional jet service.
Analysts with Kroll Bond Rating Agency (KBRA) issued a report in January that airlines could buy between 10,000 and 12,000 regional aircraft over the next 20 years, as airlines seek growth through serving more mid-size cities and also replace early RJs built during the industry's early years in the 1990s.
Mitsubishi's own market estimates aren't as bullish, but the company still projects sales of more than 5,000 regional jets, with more than a third of them going to North American operators.
"This is not a shrinking market," Bellamy said.
But to capture the North American share of the market, MITAC is going to have to come in with a smaller plane. So-called "Scope Clauses" with the Air Line Pilots Association–the union for commercial jet pilots–mandate significantly higher pay rates for crews flying large, mainline jets. The cut-off is generally 76 seats, though it may be more or less depending on the contact, about 86,000 lbs maximum take-off weight. MITAC is working on a Scope-compliant design. This will be the only Scope-compliant, new generation regional jet.
Clean sheet 76-seater
Assuming it's formally announced at Paris, the new design–Bellamy and his team don't want to call it an MRJ70 replacement–will have a significant advantage over its big sister, the MRJ90. The new plane will be "refreshed to the marked that exists today," he said.
For starters, he said, the new plane will have the advantage of new engines, systems and materials that weren't available when Mitsubishi started work on the MRJ90, some 15 years ago.
And it will be oriented toward what airlines want today, he said. The original concept for a single-class 70-seat design has been scrapped in favor of a plane that can offer three classes of service.
Airlines want that for two reasons, Bellamy said: first-class and premium economy seating offer more opportunities for revenue, and they also offer a more-seamless passenger experience, similar to the one offered by airlines' larger main-line fleets.
"Bringing in a premium passenger experience is what airlines want to do," he said.
The proposed new concept will have fundamentally the same airframe as the original MRJ70 proposal, and it will incorporate common features for pilots, he said.
MITAC's vice president of strategy and business, David Barrow, said the company has been in talks with both potential buyers for the new concept plane and potential suppliers for it. Both have shown enthusiasm, he said.
Renton office to be 'heart of United States'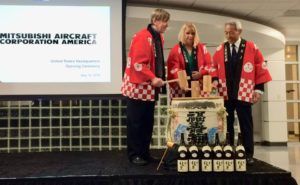 The grand opening celebration, which included remarks (in English) from MITAC's CEO and a ceremonial cracking of a sake barrel, was a coming-out party for the company's new US headquarters.
Most analysts say that North America is the biggest market for regional jets, with anywhere from 30% to 40% of the global fleet based on the continent. Given that, it makes sense for MITAC to have a major presence close to its customers, Bellamy said.
Mitsubishi Aircraft Corp. CEO Misakazu Mizutani agreed, and said it's particularly important for the company to be in Seattle, given MITAC's global asperations.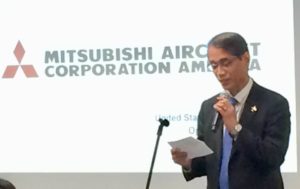 The United States is a "very important growth market," he said during the ceremony. "Our key partners are here in Washington. It makes business sense to establish our US headquarters in this global aviation hub."
It also makes sense for the company to be in the Northwest as it builds up a robust customer service operation, which Mitsubishi didn't need when it was a Tier 1 supplier to Boeing, Mizutani told reporters afterward.
"This is a big challenge for a Japanese company," he said. "We need global experts' power and ability. It's very important, I think."
MITAC needs to be in Seattle, because that's where one of the biggest pools of aerospace talent lies, Bellamy said.
"Talent is difficult to come by," he said. "You'll see us hiring more here. You'll see us adding more job types here.
"Seattle will be the heart of the United States for us."
Always have Paris
MITAC is close to adding a fifth MRJ90 to its Moses Lake-based flight test fleet, Bellamy said. But while it's likely to make a big announcement at Paris, it's not likely to be flying an aircraft there.
Bellamy said the company's priority it to keep planes flying their test flights, and while it may bring in a plane for one or two days of static displays, it's not planning to do a demonstration flight.
If it does announce plans for a revised 76-seater, or perhaps new orders for the MRJ90, that would be a major splash for a program that has struggled with delays for nearly 15 years.
It seems likely that the company will be making some big news at Le Bourget.
"We're pretty excited about where we are and where we're going," said spokesman Jeff Dronen. "We'll have a lot to talk about at Paris."