By Bjorn Fehrm
August 14, 2018, ©. Leeham Co: Embraer announced its 2Q2019 results today. The company delivered a slightly better quarter than expectations after a disappointing first quarter.
The Commercial Aircraft division and its E175 is still paying the company bills, as the start of the E2 program with E190-E2 is slow, with deliveries at one per quarter so far this year.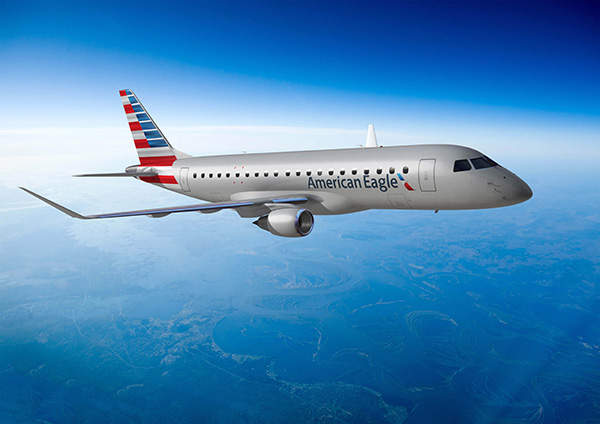 Embraer relies on the E175, with the E2 program ramping at a very slow pace
Embraer's revenue for the first six months was €2.20bn (€2.25bn 1H2018) with profit at €11m (€9m). It delivered 37 (41) commercial jets and 36 (31) executive jets. Free Cash Flow was -€0.66bn (-€0.38). Cash and financial investments are at $2.5bn ($3.4bn). Backlog is $16.9bn ($17.4bn).
Commercial Aircraft (41% of revenue, Figure 1) had a Book to Bill of 1 for the quarter, with a good order intake during the Paris Air Show. Orders and deliveries for the Executive jet sector are picking up after a bad 2018.
Guidance for 2019 was reiterated at 85 to 95 Commercial aircraft and 90 to 110 Executive jets.
E-Jets
Embraer is still dependent on deliveries of the E175, mainly to the US Scope Clause market, Figure 2.
The E2 program has only delivered six E190-E2s after one year of deliveries, with the last half-year delivery rate of one aircraft per quarter. It's not clear what is keeping the deliveries at this slow rate.
Business jets
The Phenom 300 light jet is selling well with 21 deliveries out of a total of 36 for 1H2019 (31). The margin richer mid-range Legacy/Praetor family is delivering at a fraction of its main competitor, Bombardier Challenger 350/650, at nine compared with 31 aircraft. The longer-range Praetor replacement for the Legacy 450 and 500 shall improve this ratio.
Defense & Security
The focus is here the KC-390 tactical transport. The first aircraft for delivery to the Brazilian Air Force is flying since May with delivery 2H2019. The KC-390 has also got its first export order from Portugal for five KC-390, just after the close of the quarter, on July 11th.
Services & Support
All support and services are bundled in this division with revenues of $0.5bn. It's the margin riches business at Embraer. A large portion of this revenue and margin will be going to Boeing Brasil once the Joint Venture gets regulatory approval.