By Bjorn Fehrm
Sept. 12, 2019, ©. Leeham News, Sao Jose dos Campos, Brazil: Embraer celebrated the first delivery of its to-date largest aircraft, the 132 seat E195-E2, to Brazil's Azul Airlines at a press event at its Sao Jose dos Campos headquarters today.
At the conference, the Commercial Aircraft CEO, John Slattery. also stated the smallest member of the E2 family, the E175-E2, will fly before the end of the year and he expects it fly revenue flights for its first customer before end 2021.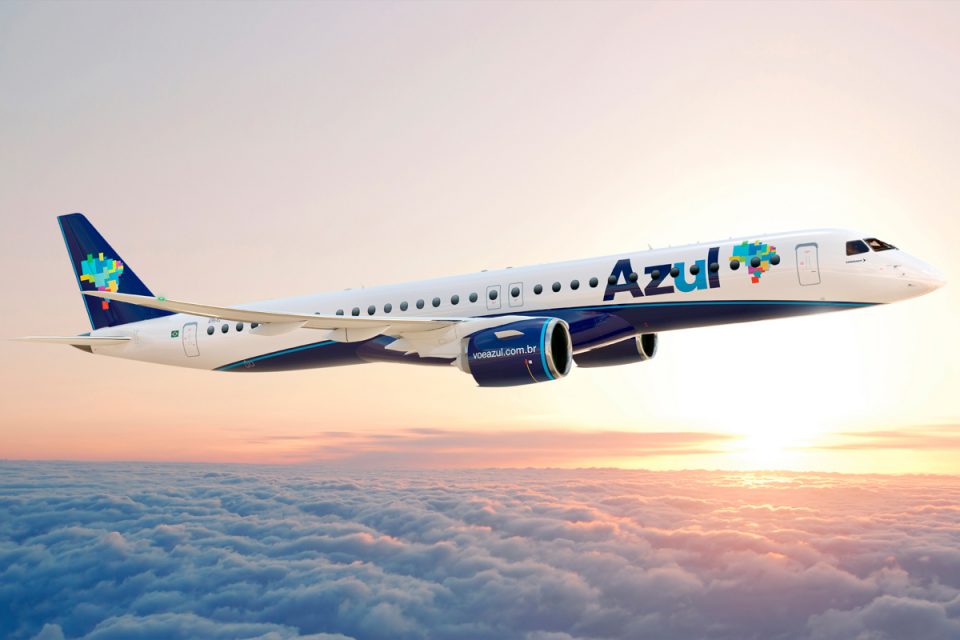 Embraer delivers the E195-E2, sees the whole program in operation before end 2021.
The E195-E2 is the largest aircraft developed and produced by Embraer, surpassing the military KC-390 in size if not in Maximum Take Off Weight (MTOW).
The E195-E2 has a 132 seat cabin in the nominal 31-inch single class configuration, three-seat rows more than the previous generation E195 at 120 seats.
Together with the smaller E190-E2 (nominal 106 seats) and the E175-E2 (nominal 88 seats), the range covers from 76 seats in US Scope Clause configuration up to 146 seats for the high-density version of the E195-E2.
The E190-E2 has so far been delivered to launch customer Wideroe (Norway) and Air Astana (Kazakhstan).  Next customer is Air Helvetic of Switzerland. The larger E195-E2 has Brazil's Azul as launch customer with an order for 51 of the type.
The delivery of the smaller E175-E2, which was designed to fit into relaxed US Scope Clauses, was moved to 2021 to fit with expected changes of the Scope Clauses. Such changes are now in doubt before the next negotiation rounds between the US Majors and their Pilots starting 2024.
This has caused rumors the program might be put on ice when the joint venture with Boeing for the commercial aircraft starts at the turn of the year (conditional of anti-trust approvals). John Slattery, the CEO of Embraer Commercial Aircraft and the future head of Boeing Brasil-Commercial, put these rumors to rest today.
On a direct question during the press conference, he stated, "We are putting the engines on the first test aircraft this week and I expect to fly it before the end of the year. In addition, I expect we conclude flight testing/certification and have the first serial aircraft in revenue-generating service with a customer before the end of 2021. There is simply no truth in rumors the E175-E2 would not be a priority of a Boeing Brasil-Commercial."