By Scott Hamilton
Analysis
Jan. 15, 2020, © Leeham News: The extent of the damage to Boeing from the 737 MAX crisis still is unfolding.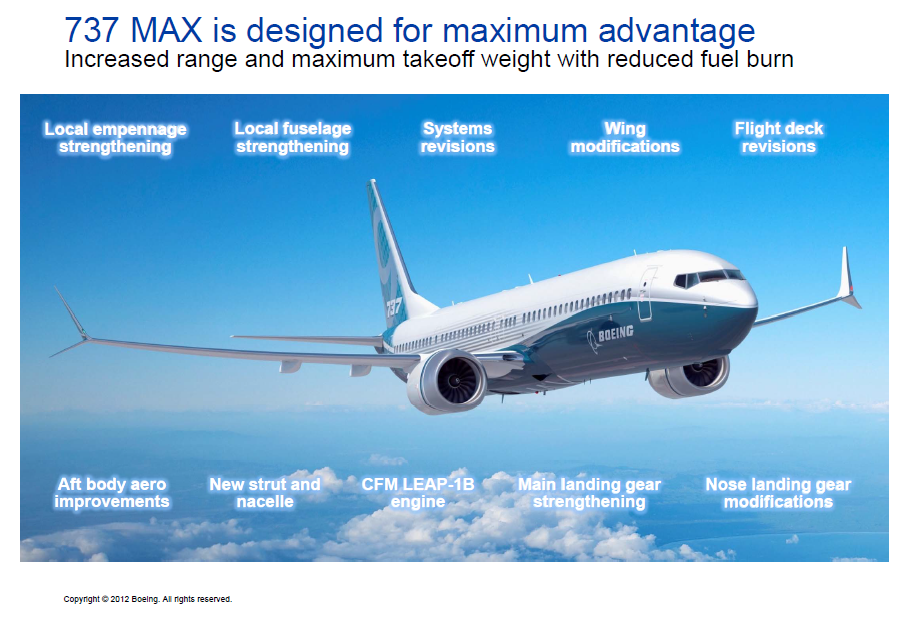 Billions of dollars in new costs and charges are expected to be announced on the 2019 earnings release and call, Jan. 29.
But the long-term effects, only surmised until now, are beginning to become evident following information obtained by LNA from multiple sources.
Restarting production will be at a low initial monthly rate.
 Ramp to previously targeted 57/mo likely lags by three years.
The impact on suppliers will be profound.
Impact on employee retention is unknown.
737 backlog delivery schedule will require major adjustments.
Airbus stands to benefit from Boeing's extended lower production rate.
New airplane years away—even as it's needed for Boeing's future.
Lower 737 production rate reduces cash flow; 787 rate reduction will hurt, too.
Boeing hasn't hit bottom yet. The worst is yet to come for suppliers.
Restarting Production
No date has been set for Boeing to restart MAX production. It was suspended in part because Boeing was about out of room to store new airplanes.
Since then, the Federal Aviation Administration gave Boeing approval to begin storing MAXes in Victorville (CA). No work or rework on the planes will be permitted under the current agreement.
But will this prompt Boeing to restart production sooner than later?
Based on available information, this doesn't appear so. While Boeing hasn't officially given any direction to the supply chain, information obtained by LNA indicates production will be suspended at least through February. Boeing hopes for a mid-February restart.
FAA recertification appears unlikely next month. Whether it comes in March remains a question.
Production rates
When Boeing restarts production, it won't be turning a key and resuming rate 42/mo, which was in place when production shut down this month.
Based on available information, the initial production rate will be between 10-15 MAXes per month. The return to rate 42 likely won't occur until 2021. Achieving rate 57/mo, which was the goal by the end of 2019, now likely won't occur until late 2022 at the earliest.
This is one of dozens of scenarios Boeing has gamed out. It's the one that, at the moment, stands out. This, like so many other things, could change.
Why so slow and so long?
Boeing has about 400 MAXes that have been produced and which are in storage in Washington State and San Antonio (TX). When it announced production would be suspended, it also announced that delivering these airplanes will take priority.
Boeing never announced how many of these new airplanes could be processed. LNA's report yesterday details that the delivery rate may be slower than initially planned.
Also, Spirit Aerosystems now has more than 100 fuselages it built in storage that Boeing has to work through.
Restarting the supply chain is also a major undertaking.
Finally, given the mistrust that developed over the last year between the FAA and Boeing, it's unclear how much oversight the FAA may exercise as Boeing prepares to restart production and the ramp-up of the production rate.
Impact on suppliers
The impact on suppliers is going to be profound.
Spirit Aerosystems last week announced it would lay off 2,800 employees for an indefinite period. It has no information from Boeing about the timing to restart production, nor at what rate.
The slow ramp-up means recalling employees, at Spirit, and any other supplier will be a gradual return to previous employment levels.
It will be challenging for Small suppliers to stay in business.
Employee retention
With a slow return to full production, the obvious question arises: how long will Boeing retain its 737 workers are on now on paid reassignment or paid leave?
In the greater Seattle area, around 10,000 Boeing jobs are associated with the 737. For every direct Boeing job, there are 3-4 indirect jobs. The longer the production halt continues, the greater the risk for these jobs.
A slow return to full production also places some of these jobs at risk.
Adjusting the skyline
Boeing had to make significant adjustments to its delivery skyline even before halting production. The chart shows the delivery stream in the skyline in July, three months into the grounding, shows the delivery stream at production rate 57. The latter was the rate Boeing intended to reach by the end of 2019.
Four hundred MAXes were 2019 deliveries. Deliveries from 2020 onward were all additional production delivery slots, at rate 57, that must be adjusted from the suspension and low-rate initial production, followed by a lower rate ramp-up.
The disruption to the airlines and lessors will be huge.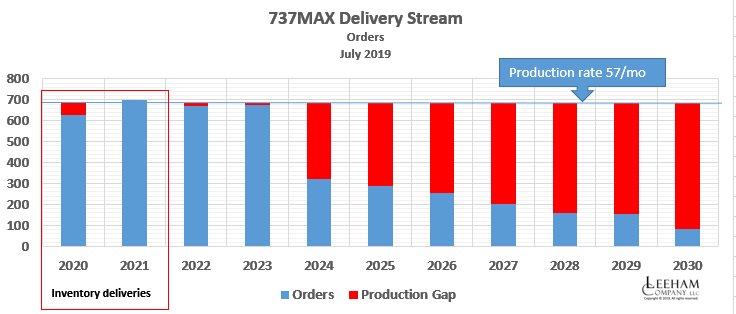 Airbus stands to gain
With production ramp-up being slow over an extended period, Airbus stands to make even greater inroads into market share than in the past.
Airbus wants to ramp up production of the A320 family beyond its current rate of 60 and announced a goal of 63/mo. It's talked about going to 70/mo.
CFM announced it's upping its delivery rate of the LEAP engine to Airbus following Boeing's suspension of production. If Airbus can work the remaining supply chain (other than engines) to support rate 70, Airbus has a multi-year window to capture greater market share than the 55%-57% it now has (depending on the measuring point).
No new airplane for now
Boeing put on hold the development of a new airplane, whether it's the New Midmarket Airplane (NMA) or Future Small Airplane (FSA).
Yet this is precisely the time developing a new airplane is needed.
The MAX will be a good airplane when it's fixed and recertified. But it's not good enough to compete with Airbus' A321neo family. And the advantage Airbus will gain from the production halt, and slow ramp will put Boeing farther and farther behind.
A new airplane is needed for Boeing to be competitive again. (This was needed before the grounding, by the way.)
Reduced cash flow
Boeing's cash flow will be reduced for years to come. The 737 accounted for about 40% of Boeing's profits before it was grounded. The dramatic production decline will eat into this cash flow proportionately.