By Scott Hamilton
Jan. 30, 2020, © Leeham News: Boeing appears preparing to produce around 220 737 MAXes this year.

Spirit AeroSystems announced this morning that it reached agreement with Boeing to supply 220 fuselages in 2020.
The actual number of MAXes Boeing produces this year may vary from 220. It could well be that some of the 2020 fuselage deliveries spill over into 2021 deliveries.
Ramping up Production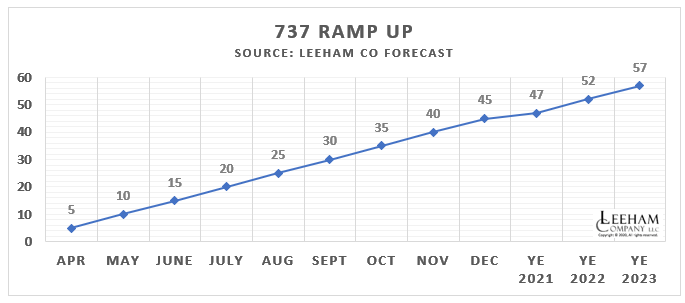 Boeing said this week and last week that it will resume production "a couple of months" ahead of recertification of the MAX and that it will be a slow and deliberate restart and ramp up.
Spirit also said it doesn't expect to produce 52 fuselages a month until late 2022. Fifty-two was the production rate before the MAX was grounded. Boeing planned to go to rate 57 by the end of 2019.
Coupled with Spirit's announcement today, it is now possible to plot a ramp-up scenario that is critical information for Puget Sound employees and the more than 600 Boeing suppliers.
The Wichita (KS)-based company has about 100 MAX fuselages in storage.