By Scott Hamilton
Feb. 20, 2020, © Leeham News: Boeing may have just checkmated Airbus in the long-running trade dispute between the US and European Union.
In an unexpected move, Boeing and Washington State crafted legislation to void tax breaks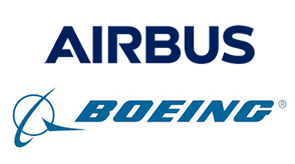 dating to 2003. The tax breaks were given to support development and assembly of the 787 in Washington. They were extended in 2013 to support assembly of the 777X in Washington.
The tax breaks were found to be illegal by the World Trade Organization. The US appealed the amount of damaged. An outcome is pending was due in May or June.
This case is parallel to another against Airbus. The WTO found Airbus received illegal subsidies and failed to cure them in connection with the A350 and A380 programs. All Airbus airplanes imported into the US, along with other goods unrelated to aerospace imported from the EU, are now subject to tariffs. The Airbus planes have been taxed at a 10% rate since October. This goes up to 15% in March.
A Big Win for Boeing
This is a big win for Boeing, even if Airbus and the EU object to a set of replacement tax breaks crafted in the legislation.
Any new objections will take years to wind the way through the WTO. (This is further complicated by the Trump Administration's refusal to allow new appointments to the body.)
In the meantime, Boeing appears to remove the threat of the EU applying tariffs to its airplane this summer.
No reaction was obtained from Airbus in the short time since this news emerged. But it's virtually certain Airbus and the EU will point to an outstanding element of the WTO decision against Boeing over a federal tax break received years ago that was found to be illegal.
A mechanism called a Foreign Sales Corp. (FSC) tax break was ruled illegal. A replacement break was also found illegal. This was never remedied. The EU never imposed tariffs on this finding but pointed to it in the current case against Boeing.
But any tariffs that might happen against the FSC and related rulings will probably pale compared with the potential against Airbus.
The US may impose tariffs up to 100% against the value of the Airbus airplanes.
In appears Airbus and the EU have been checkmated.
However, there is one more move in the EU's corner. The EU is holding hostage the approval of the Boeing-Embraer joint venture.