By Vincent Valery    
July 10th, 2020, © Leeham News: In our Corner series about flying during the COVID-19 pandemic, we look at a trip undertaken last week by a member of the LNA team, Vincent Valery. Vincent, who flew from New York to visit family in France close to Geneva, writes this post.
Getting to the gate
I took the subway and then train from central New York to Newark. When I reached Terminal C at Newark Airport after checking in online, the Security lines were short, and social distancing wasn't an issue.
Checking documents and waiting at the gate
Due to the ongoing international travel restrictions, agents checked travel documents for all passengers at the gate before boarding started. Lines were longer than usual due to social distancing requirements.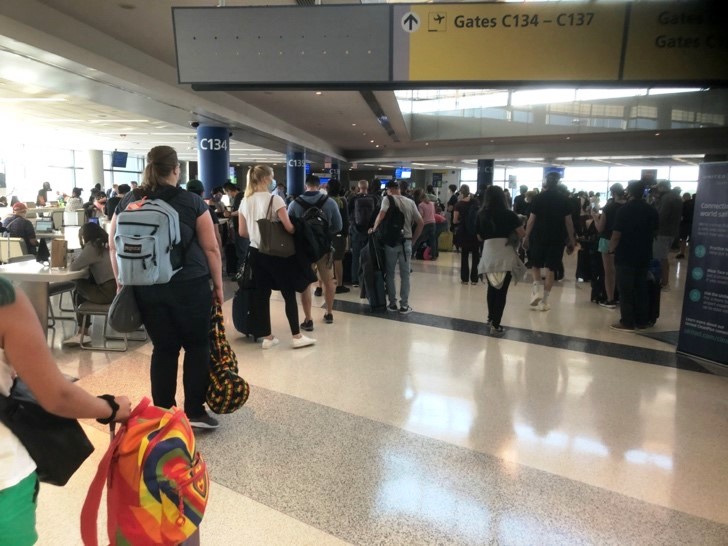 While not all passengers were respecting the six feet distance requirement, the feeling was that spacing was overall adequate. Passengers were making an effort. All people in the terminal were wearing masks, apart from young children.
Here a picture from a waiting area where I sat down: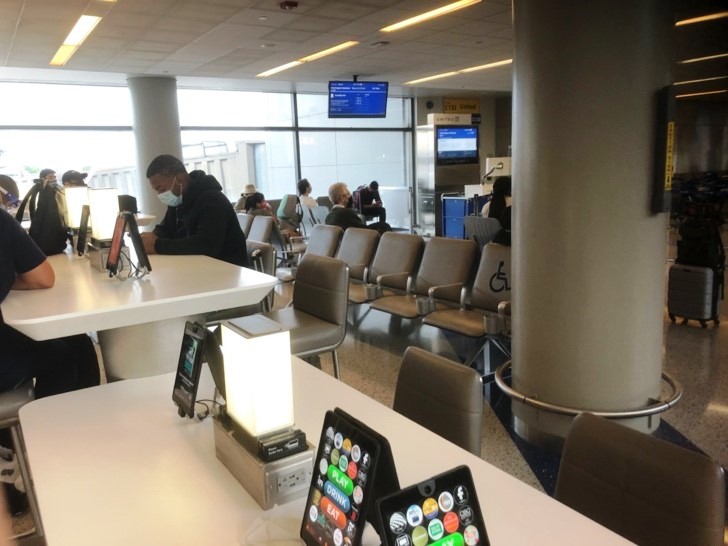 Distance between passengers was usually adequate. However, a family with young children arrived on the table I was seated on, disregarding social distancing altogether. I decided to leave, as I didn't want to argue with a father in front of his young children that their behavior was inappropriate.
When passengers lose patience, social distancing goes with it
The first flight was to Frankfurt on United's Boeing 787-10. Due to thunderstorms in the New York area, boarding was delayed by almost an hour. Problems then started.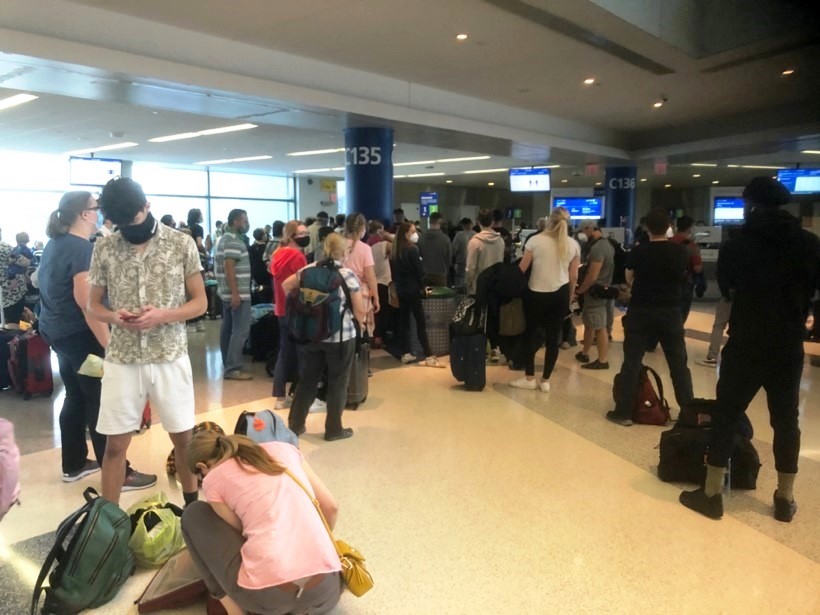 Passengers started assembling in front of the gate a few minutes before the scheduled boarding start, staying on average well below six feet apart (see picture above). As boarding got delayed, passengers did not leave the area despite gate agents asking several times. One should note that passengers of all ages stayed in the crowded space.
Passengers stayed in the area close to another for more than one hour. When boarding finally started, passengers had to walk through the crowd.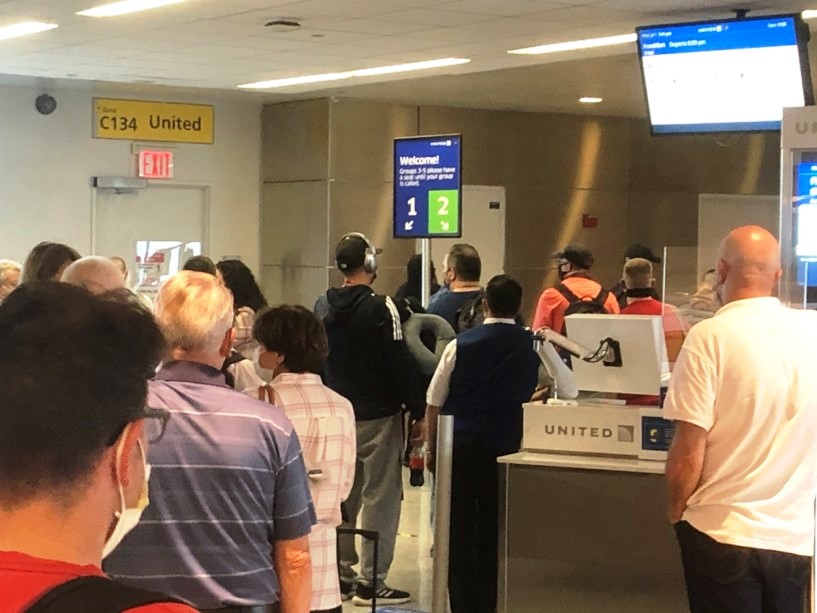 As pointed out in earlier articles, this is the type of situation that favors the spread of COVID-19. Gate agents should have more power to ask people to free the area to meet social distancing.
Boarding process
United Airlines called passengers in the following order: Passengers needing extra time, Military, Business Class, then economy by row, starting at the back of the aircraft. As I was trying to meet the six-foot requirement while boarding in-line, some passengers started cutting me.
Passengers did not have to wait on the jetbridge. Instead, there was a smaller line in the aircraft aisle while waiting for other passengers to sit.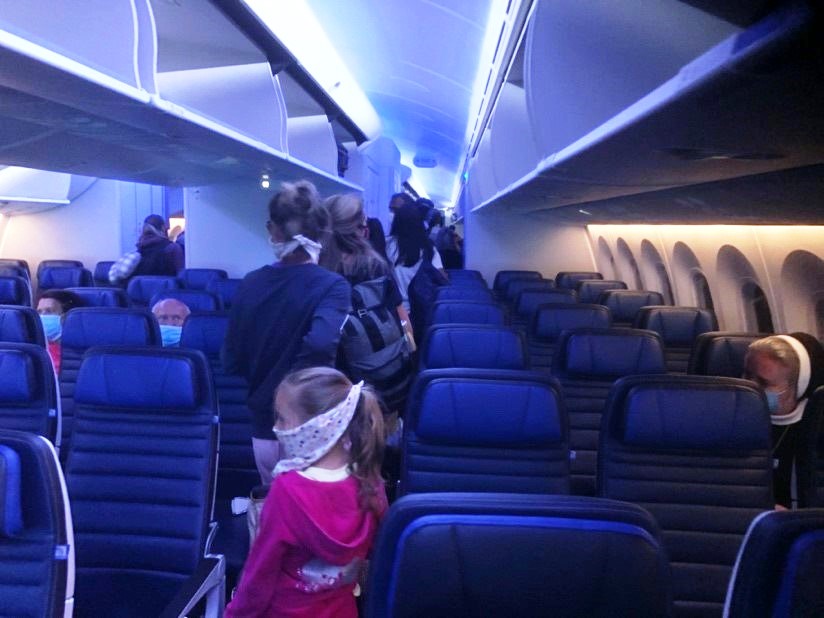 Passengers usually stayed less than six feet from one another.
Flight
I had an aisle seat. Two passengers traveling together sat next to me, so the middle seat wasn't blocked. On average, every other middle seat was empty, resulting in a load factor between 70% and 80% in Economy class.
Flight attendants only served sealed food and drinks. So there was no coffee. Flight attendants regularly came to give water bottles. Alaska Airlines gave only two small bottles of water per passenger for an entire trans-con flight that I took earlier in the month.
Deplaning in Frankfurt
When the aircraft reached the gate after landing, flight attendants asked passengers to stay seated. They called passengers to deplane by row, starting with Business class, then from the front to the end of the Economy class. Most but not all passengers complied with the instructions. This process reduced the amount of time waiting in the aisle. Passengers were not six feet apart while in the aisle.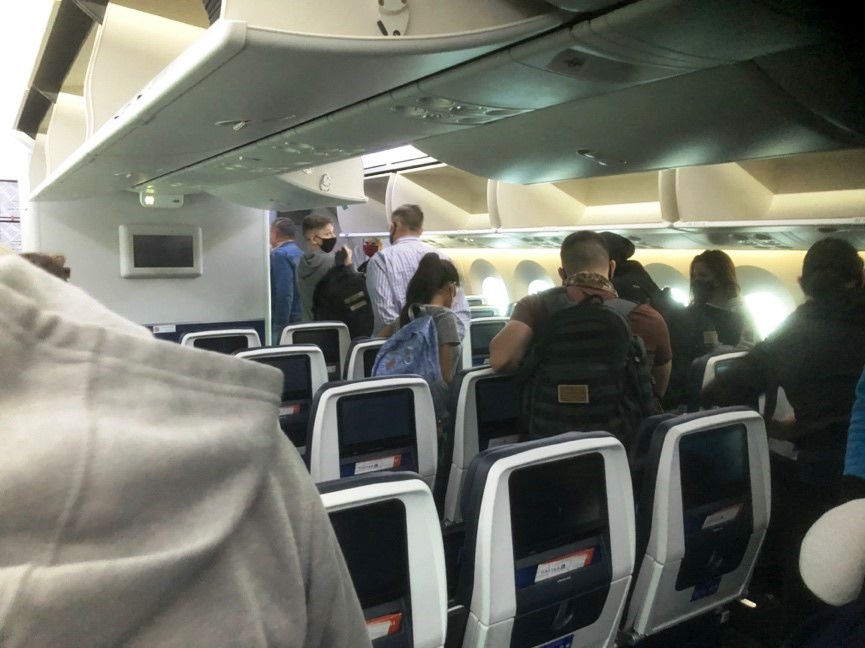 Passengers had to fill a form with contact information for German authorities. Authorities keep those forms for contact tracing in case passenger tests positive in the coming days.
Transfer and boarding in Frankfurt
There were no social distancing issues in the Frankfurt airport terminal while going through immigration and walking to the other gate. Unlike in Newark, the airport marked every other seat as unavailable. Below are pictures of the line to buy a sandwich:

Boarding and deplaning blunders with Swiss
Swiss boarded passengers on my flight to Geneva by group instead of by row. Gate agents did not make any effort to give adequate time between groups. As a result, the jetbridge got crowded: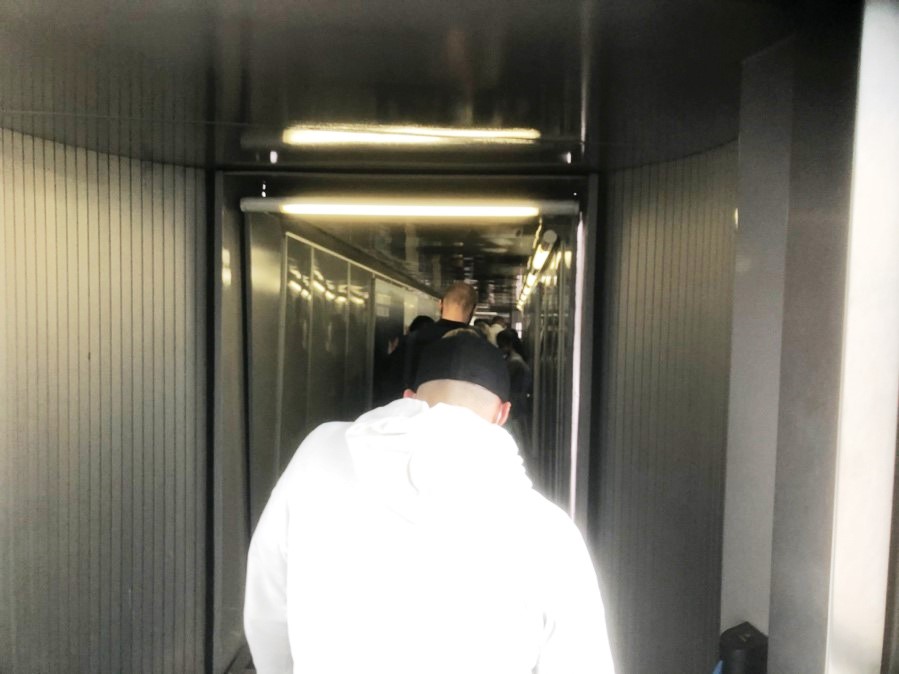 Passengers were, on average, more apart than usual but well short of six feet. I had to remind the family behind me to meet the distancing requirements.
The flight from Frankfurt to Geneva, on Swiss' A220, was at least 80% full in Economy class. Like on the first flight, all passengers wore masks.
After landing in Geneva, flight attendants did not give special instructions for the deplaning. As a result (and expected), most passengers rushed for the exit, forgetting about social distancing requirements: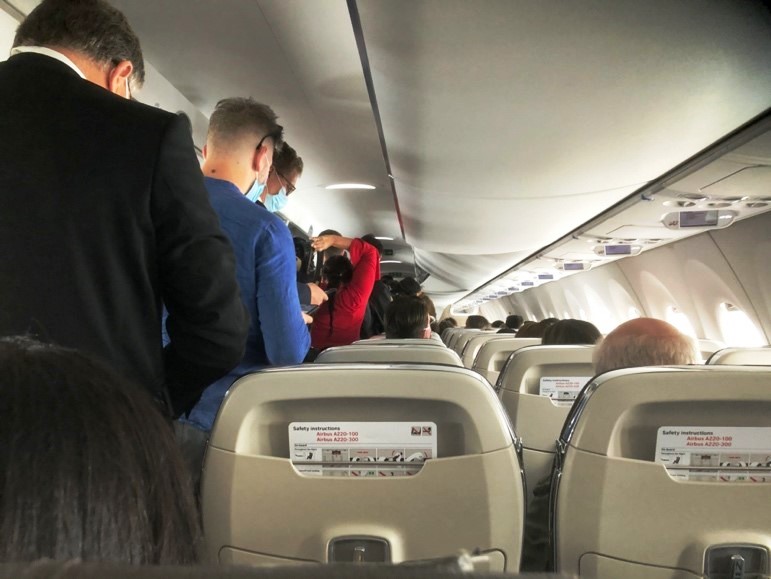 We had to take a bus from the aircraft to the Geneva Airport terminal. The bus ride was 3 minutes in total. Passengers were more spread out on the bus but less than six feet apart on average. Passengers congregated again when getting off the bus. Once inside the terminal, most people were respecting social distancing guidelines.
Swiss authorities also asked incoming passengers to fill a contact form.
Conclusion
Passengers were meeting (or close to) social distancing guidelines most of the time throughout the trip. However, during boarding and deplaning, crews should give stricter instructions to ensure passengers stay six feet apart. An area of particular concern is the congregation of passengers in front of the gate.
In my opinion, the extra stress and hassle of flying during COVID-19 aren't worth it unless one does travel for at least a week or has an imperative. I will avoid weekend getaways as long as COVID restrictions are in place.
Related