Aug. 10, 2020, © Leeham News: Frontier Airlines' CEO Barry Biffle says "it's time to fly," reports The Points Guy.
Well, good luck with that.
Air fares are ridiculously cheap. Some airlines in the US continue to block middle seats and now require passengers to wear masks throughout the flight. Extra efforts are made to clean the airplanes. (Southwest Airlines, in a truly bizarre move, ceased cleaning seat belts and arm rests between flights—two things passengers are guaranteed to touch.)
Travel count in in the US is now up to about 800,000 passengers a day. This compares with nearly 3m a day pre-COVID.
I wrote July 6 why I won't be flying any time soon. I wasn't concerned about the airplane experience (except for those passengers who refused to wear masks). I was concerned about the experience getting to, from and at the airports and at hotels.
Now, there's another reason why it's not time to fly.
14-day quarantines
Long ago, The UK imposed 14-day quarantines on arriving passengers. Most of Europe banned US travelers entirely.
Within the US, some states and cities sporadically imposed quarantines on those arriving from highly infected states, whether by air, trains or cars. (Enforcement is questionable, but this is beside the point.)
New York City now has a 14-day quarantine on travelers from 34 states. As an island, checkpoints are easy to set up.
Chicago has a 14-day quarantine from 15 states. Enforcement is spotty at best.
With quarantines here and there, why fly as a visitor if you know there is a likelihood of having to isolate yourself (the UK, maybe New York) and a chance, however remote (Chicago)?
I planned to attend the Farnborough Air Show this year, as always. I bought my ticket, on American Airlines, in December (for the 2019 tax deduction). COVID reared its ugly head and FIA was canceled. Then the UK imposed a 14-day quarantine. I had a seven-day itinerary.
Flying made no sense.
(As an aside, when I contacted American about canceling the trip, the airline only wanted to give me the ability to use the ticket by December 2020. Fat chance for that. So I played a game of chicken. If American canceled the flights, by Department of Transportation rules, AA had to refund the fare. I waited, American canceled and I got my refund.)
My brother is in the Chicago suburbs. As much as I love him, I don't want to spend 14 straight days with him. (His small condo is another issue, anyway.)
Experts say Americans are moving around too much right now.
So, Mr. Biffle, as much as I'd like to fly, it's not time to fly by a long shot.
Comparing US deaths
The US now has more people who died from COVID than American military in World War I.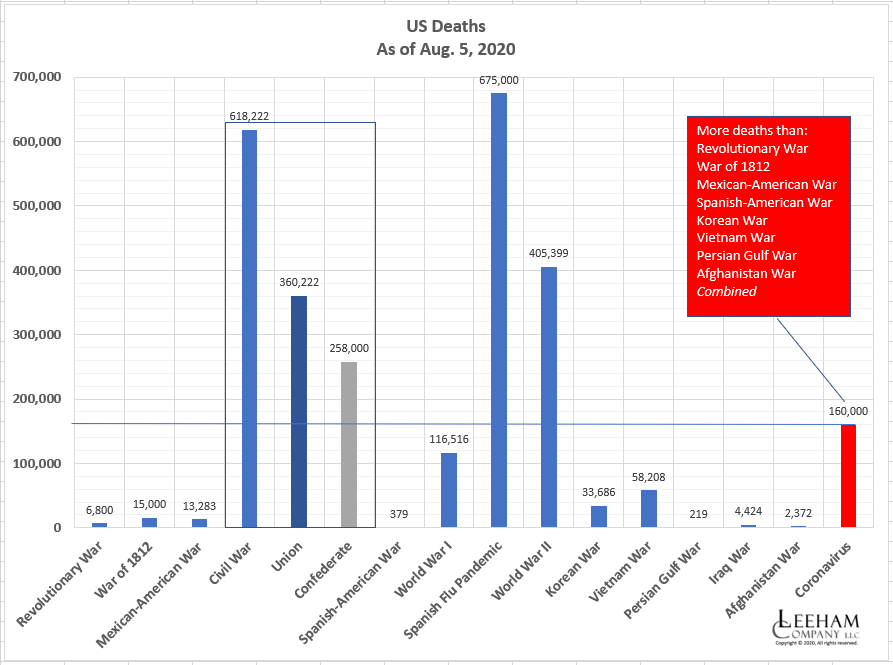 More US people now died from COVID than from the military in the Revolutionary War, War of 1812, Mexican-American War, Spanish-American War, Korean War, Vietnam War, Persian Gulf War and Afghan War combined.
Some models forecast there will be 230,000 American deaths by Nov. 3 (Election Day) and more than 300,000 by year end. The latter figure is more than the Confederate Army lost in the Civil War and approaching the Union losses in America's deadliest conflict, ever.
For the life of me—literally—I do not understand how so many people in the US remain in denial about the risks presented by COVID.
Time to fly?
Not yet.