By the Leeham News Team
Dec. 15, 2020, © Leeham News: "We do not expect Airbus or Boeing to get back to planned narrowbody deliveries (adjust for MAX grounding) before 2025, with widebody deliveries taking much longer."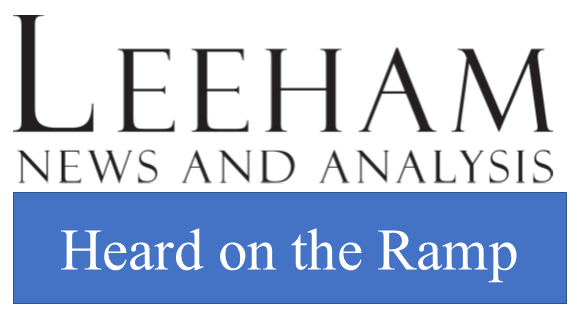 That's the view of Bernstein Research in a note published Dec. 14. It is a pessimistic view that belies the hopes of others in the industry.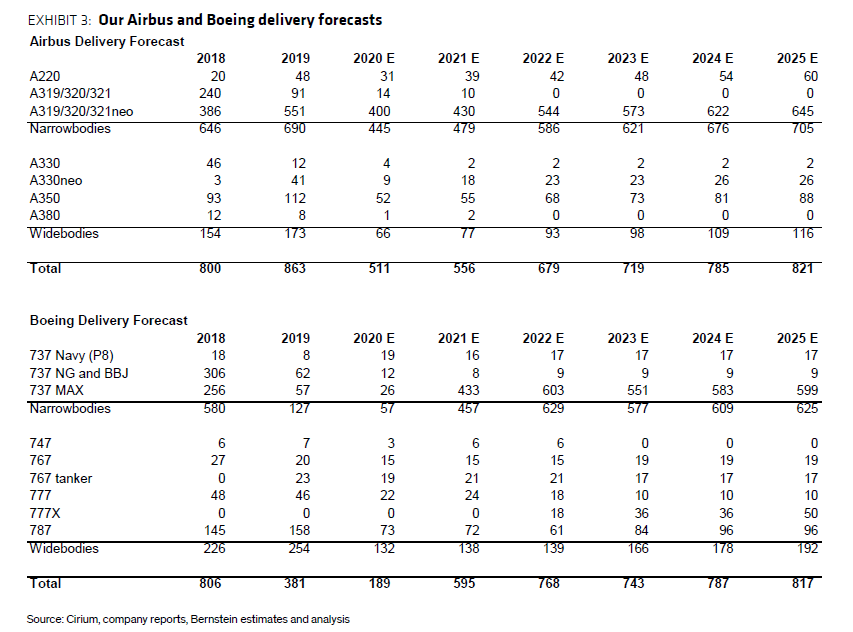 Boeing officials said they hope to deliver about half the ~450 stored MAXes in 2021. Most of the remaining stored aircraft will deliver in 2022. There will be some spillover into 2023, Boeing said.
On this basis, Bernstein's forecast suggests Boeing will deliver about 208 new-production MAXes in 2021. This computes to a production rate of 17/mo. The current rate is 6/mo, according to a Wall Street analyst. A rate break to 10/mo is expected soon.
In 2022, the Bernstein data suggests Boeing will deliver about 378 new-production MAXes. This is a production rate of about 31/mo. Boeing said it hopes to be at rate 31 in "early 2022."
Thai offers aircraft for sale
Currently under administration, Thai Airways International put a sizable number of aircraft up for sale on a dedicated website.
Among those are older aircraft that have been out of service for years, such as Boeing 737 Classics, an A300-600, and A340s. The most recent additions are Thai's entire 747-400 (10 units) and 777 Classics fleets (18 units), but also two of the airline's six A380s (more on that later).
Separately, the Armée de l'air (French Air Force) put two A340-200s previously used to transport high-level government employees for auction. Two A330-200s previously operated by Avianca Brasil will replace the A340-200s.
A quiet retirement from operations
The retirement of Airbus A380s and Boeing 747s have made significant headlines. However, airlines are also retiring significant numbers of A340s from operations.
After SAS's A340-300 retirement, the last major full-service carrier to operate the type is the Lufthansa Group. The airline group uses the type at Lufthansa, Swiss, and Edelweiss. All other operators are ACMI, charter, leisure, or carriers operating in much smaller markets.
Superjumbo sized accounting charges
It took several months for Thai Airways after bankruptcy to put two Superjumbos for sale. One must wonder why the carrier did not do so earlier and why it does not sell all units. A probably contributing factor is the fact the airline owns its entire A380s fleet. Boeing young aircraft (delivered in 2012-13), selling or retiring them entails sizable accounting charges.
The Qantas Group took a $1.4bn Australian Dollars ($900m) impairment charge earlier this year, mostly due to its fleet of 12 A380s. Air France, Lufthansa, and Singapore Airlines also booked sizable impairments as they prematurely retired Superjumbos from operations. As Thai Airways tries to sell its A380s, the carrier will have to book significant impairments.
A380 accounting charges will also loom over Korean Air's planned purchase of Asiana Airlines. Both Korean carriers operate a combined 16 A380s, which would make it the largest operator after Emirates (Singapore Airlines retired seven of its 19 units). The combined airline could have to book an impairment charge of around $1bn. Such impairment would eat up a significant portion of Korean Air's planned 2.5 trillion Korean Won ($2.3bn) share issuance for next year.