By the Leeham News Team
Jan. 29, 2021, © Leeham News: With all the headlines about Boeing's record-breaking 2020 loss and the $6.5bn forward loss for the 777X program, there was one item overlooked.
Boeing continues to reduce the deferred production costs for the 787. This is despite reducing production last year and suspending deliveries from October.
Deferred costs continued to come down quarter-over-quarter. Peaking at more than $32bn years ago, the total now is $16.6bn.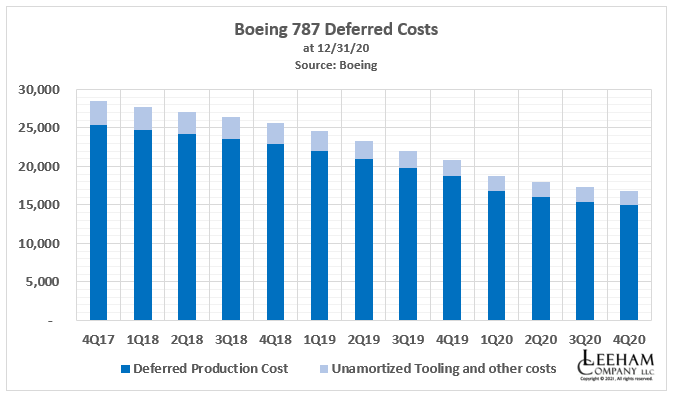 Potential forward loss for 787
However, CFO Greg Smith warned on the July 27 year-end earnings call that any production rate reduction below the 5/mo that goes into effect in March could be bad news.
"The 787 program has near break-even gross margins due to the previously announced reductions in production rates and program accounting quantity," Smith said on the call. "If we are required to further reduce the accounting quantity and/or production rates or experience other factors that could result in lower margin, the program could reach forward loss in future periods. However, on a cash basis, the 787 unit margin has held up relatively well even with these lower production rates, and many of the underlying productivity and profitability drivers remain in place."
COVID-Related Bankruptcies and Restructurings
Airline bankruptcies and restructurings related to the COVID crisis are updated through Jan. 28, 2021.