Sept. 6, 2021, © Leeham News: Last week's election of David Joyce to the Boeing Board of Directors fills a glaring hole of talent and expertise that's been missing from the Board for years.
Joyce, an outside director, brings commercial aviation and engineering experience to a Board that has been dominated by political, defense and financial expertise.
Following the two 737 MAX crashes in October 2018 and March 2019, the Board came under criticism—including from LNA—about the lack of technical, commercial, engineering and pilot representation. The 2018 Board had one commercial airline expert, from the executive suite: Lawrence Kellner, the former CEO of Continental Airlines. David Calhoun worked for GE for 26 years for the transportation, aircraft engines, reinsurance, lighting and other GE units. He left GE in 2006. From that point forward, Calhoun focused on finance industries. Dennis Muilenburg, an engineer, came from Boeing's defense side.
But, as the table below illustrates, the 13-member Board was top-heavy with other disciplines.
Board of Directors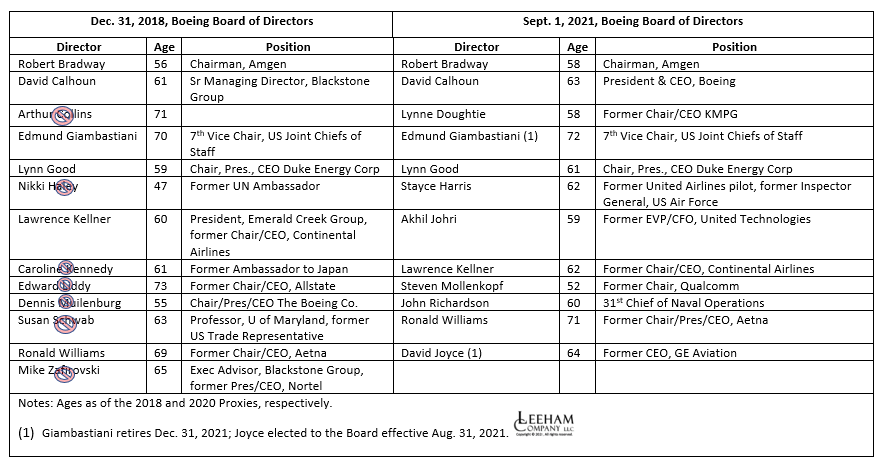 The absence of commercial aviation expertise was glaring in the wake of the MAX accidents. Commercial aviation safety didn't capture the Board's attention. There were no commercial aviation engineers or pilots on the Board. Yet commercial aviation represented the majority of the products and profits.
Changing of the guard
The Board was slow to make changes. Despite pressure to separate the chairman position from the president and CEO, the Board, and shareholders, rejected the proposal at the 2019 Annual Shareholders meeting in April 2019. But the Board did so the following October. Despite calls to fire CEO Muilenburg, the Board stuck by him for months before finally doing so in December 2019. Calhoun, who became chairman in October, was named president and CEO. Kellner was named chairman.
Since Calhoun's ascension, there has been major Board turnover. Seven of the 13-member Board are gone. Age-related retirement probably accounted for some. Nikki Haley, the former governor of South Carolina and former Ambassador to the United Nations—a political choice for Board membership—resigned over policy differences. Boeing initially intended to participate in the COVID-related CARES federal financial bailout. Haley opposed this move and quit. Ironically, Boeing swore off the CARES bailout and instead sold billions of dollars in bonds (of which, according to some, the federal government was a buyer). Caroline Kennedy, a former Ambassador to Japan and clearly another political choice for the Board, quit in January 2021. She's since been identified as the potential Ambassador to Australia.
At last
New members to the Board, however, still didn't have commercial aviation experience. New members had defense, finance and non-aviation industry experience. Although in the 2021 Proxy, Boeing took great pains to point to the engineering experience of various Board members, none was in aviation.
At last, though, Boeing named an airline pilot to the Board: Stayce Harris, who flew for United Airlines for 30 years on all the Boeing 7-Series aircraft operated by UAL, except the 737. She also was a former Inspector General of the US Air Force, where she achieved the rank of Lieutenant General—three stars. One cynic immediately pointed out that the USAF connections might have been more important to Boeing than her airline pilot credentials, considering the future aerial refueling tanker competition and other air force defense work. Regardless, Boeing finally has a commercial airline pilot on the Board.
And now, it also has representation from the commercial aviation sector and a commercial aviation engineer. David Joyce is highly respected in the industry on both counts. He also benefits from knowing Boeing intimately—no learning curve, or very little, will be necessary. Joyce also knows the challenges and dynamics involved for the Next Boeing Airplane (NBA), whatever it turns out to be.
Possible downside
The possible downside: Calhoun, a GE alumni, picked a former GE exec to succeed former EVP and CFO Greg Smith. The GE influence at Boeing that began with the 1997 acquisition of McDonnell Douglas Corp., where another GE alumni, Harry Stonecipher, was CEO, is viewed by many as a long-term contributor to Boeing's slide from an engineering company to one overly focused on financial performance and shareholder value.
The GEntrification of Boeing has long been a concern, especially as the financial world saw the decline of GE itself as a global leader that has been in a long financial decline of its own.
Boeing has a long, long road to return to its former glory. It's taken decades to hit bottom. It will probably take decades to climb out of the valley it's been in. But at long last, there are some people on the Board who actually understand commercial aviation.