Oct. 4, 2021, © Leeham News: The pressure to reduce greenhouse gas emissions by the commercial aviation industry continues to increase.
Two weeks ago, Airbus hosted a day-and-a-half media event promoting its vision of moving toward decarbonizing aviation.
Boeing and Alaska Airlines last week hosted media for a touchy-feely event following up on the announcement in June by Boeing and Alaska of its joint ecoD (as Boeing calls it) program.
Boeing in October outlined progress of its ecoDemonstrator program, at the time with Etihad Airways as the partner. A 787-10 was used at that stage.
Mike Sinnett, Boeing VP of Product Development, said last week that the Alaska 737-9 MAX that is the focus of the current ecoD effort includes several ideas that would not make it into test on a stand-alone basis. But as part of a larger effort, little things that cumulatively can reduce drag and therefore fuel burn can be tested.
Flush collision lighting
One example is testing of anti-collision lighting that is flush with the fuselage. These red flashing lights serve as visual warnings to other aircraft. More than a decade ago, Boeing reduced the size of the lights, atop and at the bottom of the fuselage, is part of a package of small aerodynamic improvements on the 737 NG.
The Alaska 9 MAX has a flush collision light mounted in place of a cabin window to test visibility. Sinnett said the flush mounting saves draft, hence fuel burn and therefore reduces emissions. But by itself, it wouldn't get tested without being part of a suite of other initiatives. (See LNA's June article for more detail.)
Sinnett noted that since the Boeing 707-era jet age beginning in 1958, noise was reduced by 90%. Fuel consumption was reduced by 70%.
"Many of these improvements come from a lot of small things," he said.
Hydrogen is a long way off
Airbus is placing a big bet on hydrogen-powered airplanes in the next decade. Boeing sees Sustainable Aviation Fuel (SAF) as the best hope for medium-term emissions reduction. Boeing flight-tested hydrogen more than a decade ago. Sinnett says Boeing sees hydrogen as a global transportation system advancement rather than one focused on aviation. Who's right in this divergence of science will probably not be seen for another 10-15 years.
At the Airbus event two weeks ago, officials said they would be willing to work directly with Boeing on hydrogen research. Sinnett, and corporate communications officials, said last week that Boeing prefers to work through industry associations. It's clear more research is needed.
"We aren't convinced SAF is enough," Sinnett said. Boeing also continues research into electric and hybrid technologies.
Air Wars: The Global Combat Between Airbus and Boeing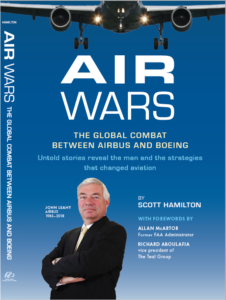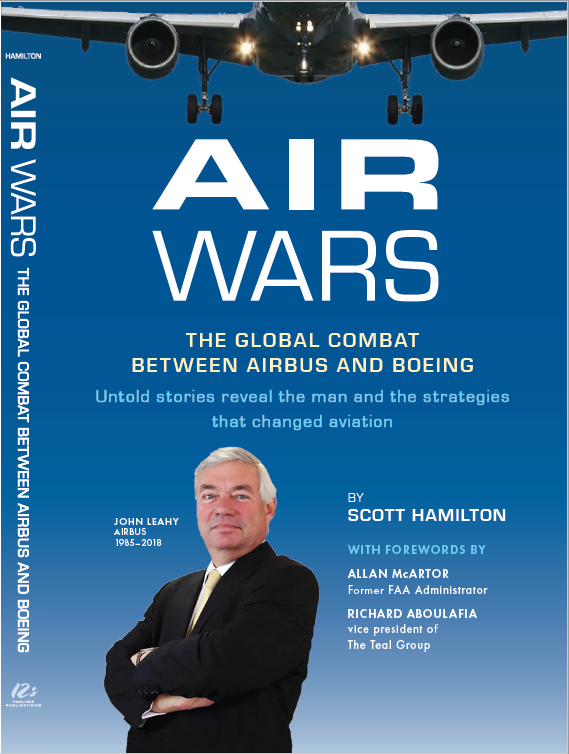 Did you know that McDonnell Douglas tried to recruit John Leahy from Airbus before merging with Boeing?
Or that one Chinese airline thought Airbus was making and selling buses to move passengers from the terminal to the airplanes?
Or why Boeing passed on buying the Bombardier C Series?
Find out these stories and more in my new boom, Air Wars: The Global Combat Between Airbus and Boeing. See here for more information.