Nov. 8, 2021, © Leeham News: Boeing now has passed one year since deliveries were suspended for the 787. There were 105 787s in inventory at Sept. 30. The current build rate is 2/mo.
LNA identified 93 787s that were ordered in 2020 and 2021 that are believed to be parked, leaving 12 unaccounted for.
Among the aircraft in inventory are:
11 787-8s destined for American Airlines, which are owned by Boeing Capital Corp.
3 for BOC Aviation, which do not have identified customers.
9 for Chinese airlines.
8 for the always cranky Qatar Airways.
LNA understands that several customers are now looking for substitutions in the Boeing 777-300ER fleet owned by lessors. Of the 116 -300ERs in storage, 60 are owned by lessors. Nearly all are leased to airlines that put the aircraft in storage. But there are some off-lease. The latter includes seven owned by GECAS (now AerCap), which are destined for conversion to freighters via IAI Bedek.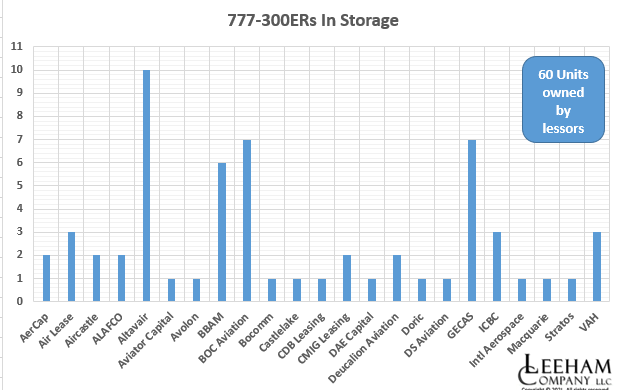 No date to resume deliveries
There is no date forecast when deliveries of the 787 will resume. Boeing too many times suggested dates when the 737 MAX would be recertified, only to be wrong each time. Officials had their hands publicly slapped by the Federal Aviation Administration in the process. No one at Boeing is willing to suggest a date for the 787.
But customers express concern that a resumption of deliveries may not begin until well into the first quarter next year.
There currently are 16 787s scheduled for delivery January-March, according to data seen by LNA. This may be high, if based on a production rate. It's not possible to conclude how many of these may be rescheduled from earlier periods.
American, Etihad Airways, Korean Air, Vietnam Airlines, and British Airways are slated to receive two aircraft. China Southern Airlines is scheduled to receive one, but deliveries to China are stalled due to the long-running US-China trade war.
LNA is told that in the post-COVID world, airlines are looking at the 2022 deliveries and new traffic patterns that are influenced by belly freight demands. These factors prompt the airlines to take a second look at whether to retire, return to service or find additional 777-300ER lift.
Some carriers have inquired about long-term leases, rejecting Boeing's suggestion that six-month interim leases are all that's needed.
The airlines and lessors affected by the suspended deliveries may cancel orders, typically after a delay of this nature of between 9-12 months. The cancellations would be on a rolling basis.
Lease rates and other factors
Although 787s are considerably more fuel-efficient than the 777 Classic, the latter's lease rates are significantly lower and the revenue potential from the belly capacity is much greater.
Another factor operators and owners must consider is the maintenance, repair, and overhaul (MRO) status of the 777-300ERs. Engine MROs are very expensive. The GE90 costs more than $12m for a complete overhaul.
"GE is very conflicted because 777-300ER viability depends on engine costs," one 777 owner tells LNA. "So, does GE address that and win more services business or do they stay firm on engine servicing pricing to try and drive new sales of GEnx engines" used on 787s?
Germany's MTU, a supplier to GE that also has its own MRO business model, is making a strong push in the GE90 market. It is becoming a viable alternative to GE.
Reducing the feedstock
The renewed interest in retaining the 777-300ER in passenger service may reduce the feedstock for aftermarket P2F conversions. Of the 116 -300ERs in storage, 51 are 12 years or older, making these prime candidates for P2F freighters. Twenty-nine of these are owned by lessors but seven of these are the GECAS planes destined for IAI Bedek. Only four are off-lease. Not all of the remaining leased aircraft will return to service, however. The remaining 22 are owned by airlines that parked them.