Growing Opposition to ALPA's Attack on Regionals
Subscription Required
Kathryn B. Creedy
Analysis

May 15, 2023, © Leeham News: Using the same tired arguments, the Air Line Pilots Association (ALPA) on May 5 urged the Department of Transportation to reject SkyWest's year-old proposal to create a Part 135 public charter under Part 380 of the Department's regulations to serve Essential Air Service (EAS) markets.
ALPA, in a letter co-signed by nine other unions, claimed SkyWest Charter is a backhanded attempt to bypass the 1,500-hour pilot experience rule. The airline says its proposal is to continue serving most of its EAS points under the same regulations governing other EAS carriers. Further, it attacked the public charter rule objecting to JSX operations, a catalyst for engaging the business aviation against the union.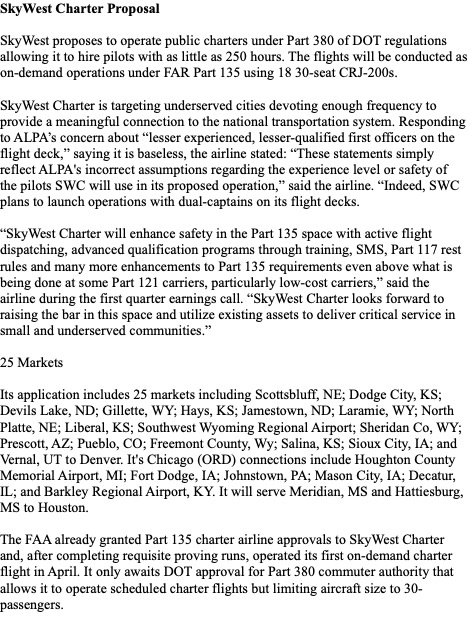 ALPA may be skating on thin ice, not realizing the 1,500-hour rule is increasingly irrelevant given statements on Capitol Hill favoring pilot training reform and the popularity of the EAS program among legislators.
To read the rest of the article Login or Subscribe today.
Category: Air Line Pilots Association, Airlines, Department of Transportation, Federal Aviation Regulations, House Aviation Subcommittee, Pilot Shortage, Premium, Regional Airline Assn, Regional Airlines, Small Community Air Service
Tags: JSX Airlines, Sam Graves, SkyWest Airlines