We have some follow-up to our trip last week to the Airbus Innovation Days:
A350 Program: Aviation Week has this article about the A350 program, noting that the A350-800 seems to be suffering from from benign neglect.
A350 Engineers: There is a lot of buzz "out there" that the A350-900 program is sucking up engineers from the A350-1000. We asked Airbus about this at the Innovation Days. There is no question that the -900 timeline is challenging (see chart) but Didier Evard, EVP of the program, says engineers will be released soon for the 1000.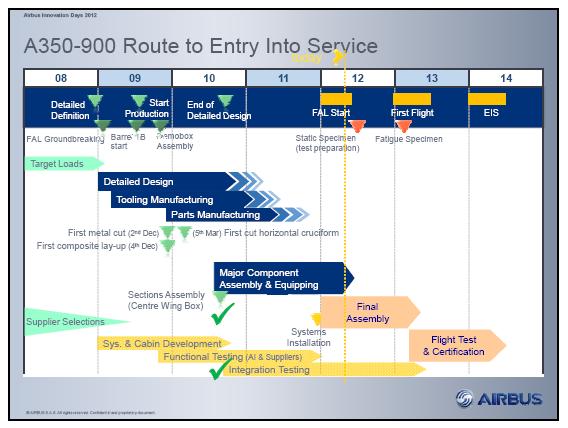 "This year we have to ramp up the 1000 team," Evard said. "We have internal plan and to increase the workforce from the outside to start the detail design this year."
We asked what was the level of engineers assigned to the 900, using the example that if 100% were the norm, was the program at 100% or 125%, for example. Evard didn't directly address that but said:
"The 900 this year will go down from 100% to around 60% or 70% and be stable."
A380 Wing Rib Fix: Airbus showed this illustration: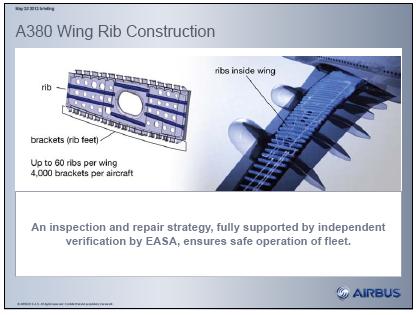 Although the slide shows 60 ribs per wing, in practice, Airbus says only 20 have needed repair.
A320neo affecting A320ceo demand: JP Morgan issued this observation following the Innovation Days:
A320neo EIS is affecting demand for the current version. The imminent introduction of the a more efficient version of the A320, the neo is scheduled to enter service in 4Q2015, should make it more difficult to drum up demand for current generation A320s in 2014/2015. The years immediately preceding the changeover have always seemed like a potential rough patch, both for the A320 and the 737, which will transition from the NG to the MAX, in 2017. According to Ascend, A320 slots are filled for 2014 with 484 aircraft scheduled for delivery, 42/month implies ~480 deliveries, but 2015 is not yet full at 362 A320s. As some customers could walk away ahead of the neo introduction or for other reasons and new orders should be hard to come by, holding the rate at 42/month looks reasonable. Lease rates on current generation A320 family aircraft have been the weakest among major Airbus and Boeing platforms, an indication that the market is not as hungry for more of them as it is for other models.
We heard long ago that Airbus was worried about demand for the ceo, but we also heard the same is quite true for Boeing on the 737NG with respect to MAX sales. This is why we are seeing many Airbus and Boeing deals include the current generation of airplanes with the re-engined models. It's also why, we believe, we're seeing pricing on the current generation of airplanes dropping precipitously, which will of course affect residual values and lease rates.