For two years, Boeing claimed the 737NG was 8% more economical (and here) than the Airbus A320. Boeing told media, analysts, everybody who would listen. Boeing illustrated the point before and after the MAX.
Here is a recent illustration; note the NG advantage over A320ceo is reduced to 6%: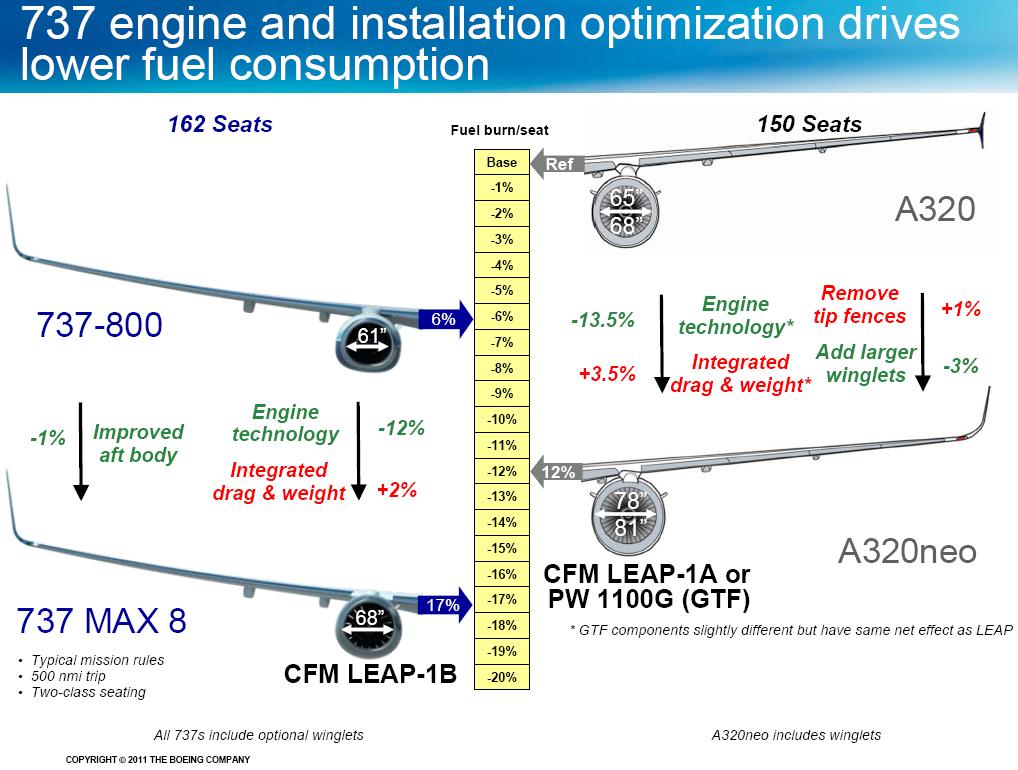 And Randy Tinseth, in Randy's Journal, writes:
Combining the seat count issue with all our latest improvements gets you to a 6 to 7 percent difference. So, if the aircraft are not at parity today, what does that say about the rest of the story? It's always fun to have spirited debate with our competitors. But in this case, the numbers really do speak for themselves. I'd love to hear your thoughts.
Our thought was, What happened to 8%? Is this a change in the Boeing messaging? So we asked Tinseth, and through a spokeswoman, the response was, "The 8 percent is our current operating cost per seat advantage over our competition and the other is a measure of fuel burn per seat."
Airbus, as we've noted before, disputes Boeing's analysis and offers up its own, where numbers are again at the forefront. A key assumption on Airbus' part is using 157 seats for the 737-800 vs the 162 used by Boeing. Tinseth recently has this to say about that: according to Seatguru.com, Tinseth argues Boeing is closer to right than Airbus–hence his comment above.
Airbus also disputes the 20%-25% maintenance advantage Boeing claims for the 738. Boeing explained here where that comes from.
Here is an Airbus slide from the Innovation Days. Note the seat assumptions in the fine print.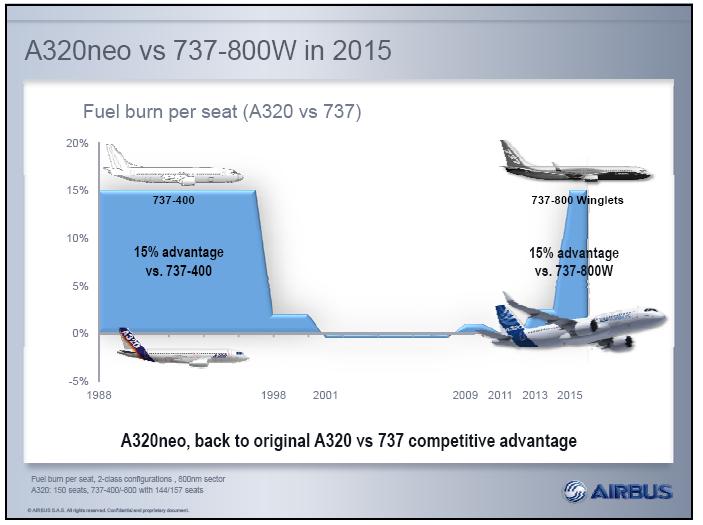 The bouncing around is enough to make one airsick. This is why we remain skeptical of data from both OEMs and prefer to listen to the airlines, who tell use the two airplanes are very close.
Update, 3:30pm PDT: A reader linked this Airbus slide, which was previously posted but forgot about. It addresses Tinseth's seat issue in the print at the bottom, and was created last year by Airbus.