Replacing the venerable Boeing 747-400s remaining in passenger service is a prime objective of Boeing and of Airbus. The business case for their respective 747-8Is and A380s rests in large part on this approach, though for Airbus the A380 business case also rests on passenger traffic doubling every 15 years and restricted airport slots.
Replacing the 747-400, in fact, doesn't leave a lot of room. There are just 306 passenger models remaining in service, including VIPs and government uses, according to data provided Leeham News. There are another 23 747-400C (Combis) remaining in service.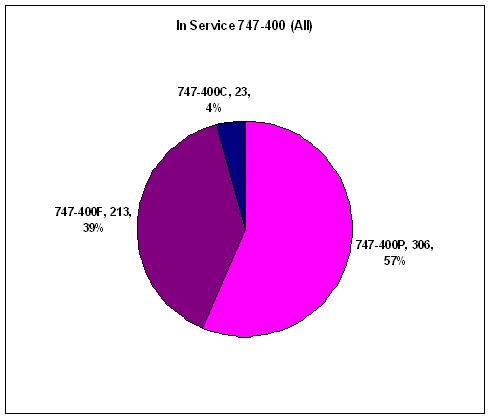 Data at July 2013.
Fully 42 747-400 passenger models are in storage. Many 744 "Ps" have been converted to cargo airplanes, supplementing new-build 747-400Fs (above). The 744Ps in storage and in service are obvious candidates for conversion to freighters, and there are a number of 744Fs in storage ready to return to service when the slow-moving global cargo demand recovers–which has proved to be a maddening slow process.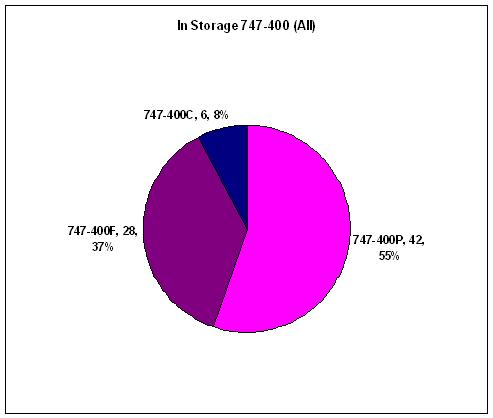 Date as of July 2013
Airbus has been more successful selling its A380 to 747-400 operators than Boeing has in selling its 747-8I. Airbus has likewise been more successful at selling the aircraft to non-747-400 operators, though the customer quality in several cases was dodgy. Kingfisher Airlines has collapsed and it's unlikely Hong Kong Airlines will take delivery of the A380, openly talking about swapping these orders for smaller aircraft.
And therein lies the rub.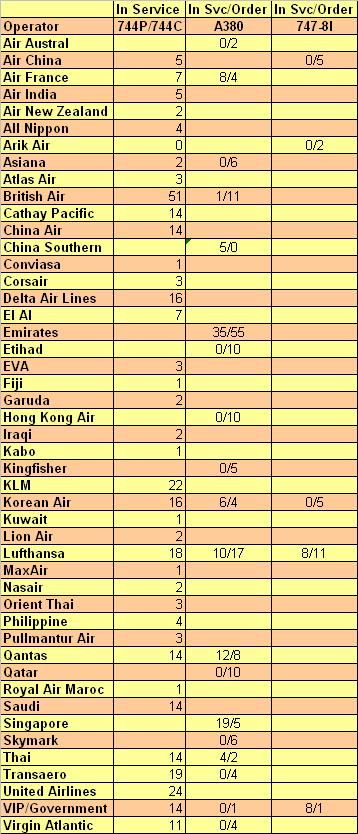 Sources: Airbus, Boeing, Ascend at July 2013
Update: Typo on the Lufthansa remaining orders for A380s: 7, not 17.
United Airlines and British Airways said they are down-sizing their 747-400 fleets to the A350-1000, though Boeing is pressing British to buy the 747-8I in a critical campaign. Boeing has targeted Emirates Airlines for the 8I and it wants to sell more to Lufthansa. The former seems to prefer the forthcoming 777-9X, nominally a 406 passenger airplane in three classes, and Lufthansa's wide-body decision seems more focused on the A350 and the 787 and/or 777X.
With the development of the 777-9X, widely expected to be launched at the Dubai Air Show in November with a huge order from Emirates Airlines, and from others, we expect this to be the death knell for the 747-8I. Market intelligence tells us the 777-9X will have the same seat-mile costs as the 747-8I (and the A380) without the risk of having to fill a large number of extra seats.
While Airbus says the A380 is needed if an airline wants to add capacity at slot-constrained airports–a valid point, in theory–this doesn't seem to have been the strong catalyst Airbus has claimed for more than a decade: only 262 sales have been firmed up since the program's first order in 2000. Airlines seem to prefer the lower-risk solution of smaller aircraft and spilling traffic, with the ability to move smaller airplanes to smaller markets.
China Southern Airlines gambled in ordering five A380s on the assumption it would win international routes from Beijing that would support the behemoths. It didn't, and it has been operating the Airbuses on domestic routes, losing millions of dollars in the process, according to press reports. It's going to reschedule these aircraft from Guangzhou to Australia in hopes of finding successful markets for the A380s. This vividly illustrates the risks of the Very Large Aircraft and the advantage of buying "small–" a strategy employed by American Airlines under former CEO Robert Crandall, who favored McDonnell Douglas DC-10s and MD-11s to the 747 of the era. The smaller aircraft allowed him to shift the airplanes around easier to adjust for market demand.
The future of the VLA is limited, indeed.