Airbus and Boeing production backlogs stretch to late this decade and into the beginning of next decade for most of their commercial aircraft, based on today's production rates.
We previously wrote about the waning sales of the 777 Classic and the A330. Some mainstream media subsequently examined 777 Classic sales but not the A330 sales.
Both OEMs will be challenged to meet intended production timelines for select currently in-production models.
Airbus and Boeing officials each said they plan to build the A320ceo and 737NG families two years into the entry-into-service of the A320neo and 737 MAX families. Airbus' ceo backlog appears to meet this desire, but the 737NG currently has a backlog that only matches the 2017 EIS of the 737 MAX.
Airbus says it plans to produce the A330 into the 2020 decade (most statements suggest until about 2022).
Boeing has a 2020 EIS for the new 777X program, but the backlog of the 777 Classic currently extends only to 2017.
The USAF wants replacements for its 747-200 presidential fleet in 2021 but Boeing's backlog for the 747-8 only extends to 2017.
The following chart is based on current backlogs reported by Airbus and Boeing in respective data charts; and it is based on the current production rates of each program. For the new airplane programs, the chart assumes the current production rate and does not take into account the stepped ramp-up for the A320neo, the 737 MAX, the A350 XWB or the 777X. For the latter two, production rates are assumed at the A350's announce plan of 10/mo and the 777 Classic rate of 8.3/mo. The 787 rate is assumed at 10/mo, although the rate is not quite there yet.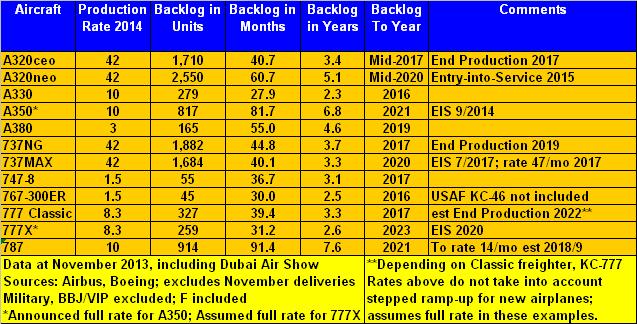 Sources: Airbus, Boeing, Leeham Co Analysis
Airbus is considering increasing the A320 production rate to more than 42/mo (we assume 47/mo, to match Boeing's 737 announced rate hike in 2017). Boeing is also studying taking 737 rates to 52/mo by 2019. We figure Airbus will match Boeing rates.
Boeing announced plans to take the 787 rate to 14/mo "by the end of the decade" (our information is 2018). We figure Airbus will boost A350 rates to at least 13/mo and attempt a high rate to remain competitive with the 787 and the 777X.
Airbus clearly is challenged to maintain production of the A330 beyond the near term. This is in part why Airbus launched the A330 "Lite" program in an effort to boost sales.