Airbus has a major image problem with its A330 backlog: the aviation industry looks at the backlog and sees "two years worth of production," assuming on its face that after 2016, there are no orders. Therefore the program is in dire straits.
It's not that simple, as we've pointed out: firm orders extend to 2019, though heavily front-loaded to the near term–and certainly Airbus does have issues with the backlog.
The same industry looks at the Boeing 777 backlog, hears Boeing say it has three years worth of backlog and six years to fill a production gap to EIS of the 777X, blithely asserting there is no problem. This assumes 100% conversion of options, letters of intent and option LOIs.
We've previously plotted out the production gaps of both airplanes. Below we plot the orders, options, LOIs and option LOIs (Airbus does not list option LOIs) from the Ascend data base as of July 1. The plot lines are actually very similar near-term.
The above chart segments the various categories. This reveals the firm orders plot lines for the A330 and 777 Classic to be very similar beginning in 2015 through 2019. However, Boeing has about 31 firm orders in the TBD column in which Ascend doesn't have delivery dates that, when allocated, could well boost the 777 delivery stream.
However, the next chart aggregates the categories. Even combining the categories continues to provide a similar plot line through 2019, after which the A330 disappears but the 777 does not. Boeing, however, has a large number in the TBD column that, when ultimately allocated to a delivery stream, gives the 777 a clear advantage (assuming conversions of options and LOIs).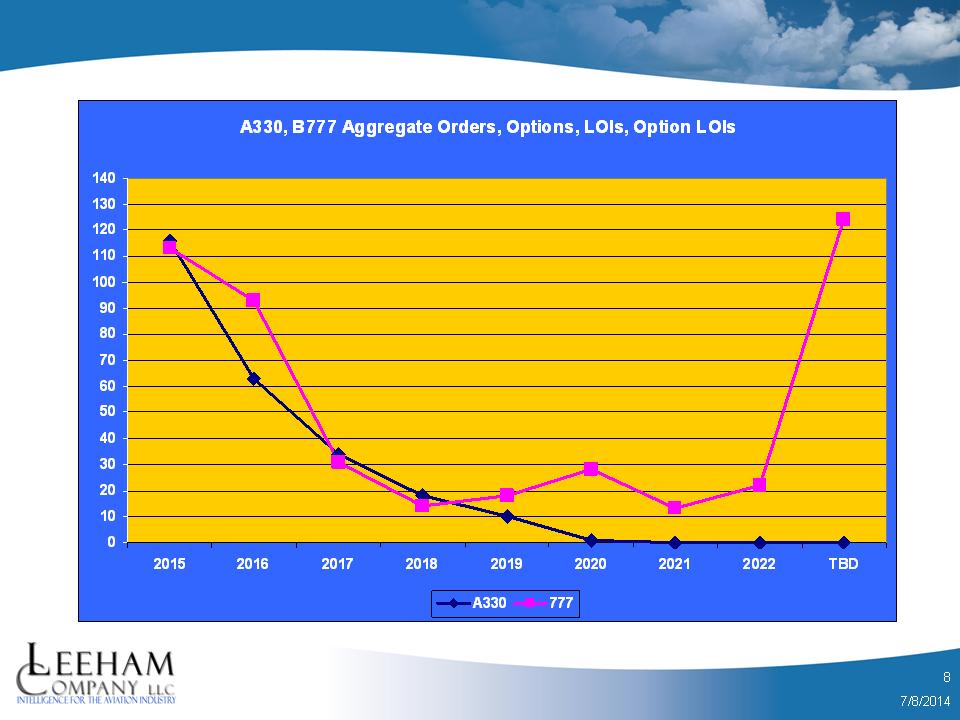 The A330 is clearly more challenged the farther out it gets, but it's not that far off the 777 excluding the TBD delivery stream.
Boeing and Emirates Airlines firmed up the order for 150 777Xs announced last November at the Dubai Air Show. We had expected this to be announced next week at the Farnborough Air Show.