Jan. 25, 2016: Alaska Airlines announced its first rebranding in 25 years today, revealing a new livery and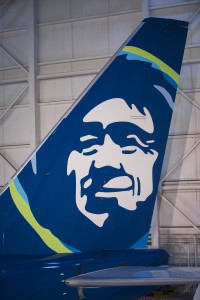 new logo font.
The airline is in a fierce battle with Delta Air Lines, as the latter develops Seattle into a major hub, adding domestic flights to feed its international routes. Seattle is Alaska's principal hub and with its sibling Horizon Air continues to maintain a 51% market share.
The new look is an evolution, not a revolution, the company said in a statement. The traditional Alaska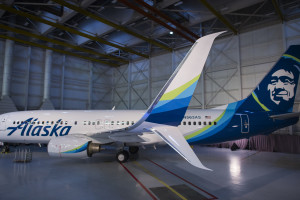 colors remain and are enhanced, and the Smiling Eskimo, the logo of the airline since 1972, receives tweaks but essentially remains the same, "with vibrant new colors."
The new livery and logo remained a secret until the unveiling, an unusual success when it comes to new airline paint jobs and plane spotters. The aircraft was painted in Victorville (CA), with those involved under a Non-Disclosure Agreement, an Alaska spokeswoman told LNC. Employees at Seattle were told the plane would fly in at 0630, but it was snuck in at 0100. Employees involved in the flight and parking the plane in the hanger were sworn to secrecy.