Feb. 8, 2017, © Leeham Co.: Boeing last month received a $2.1bn order for 15 more KC-46A tankers from the US Air Force, bringing the total so far to 34.
Look for more orders in the coming months.
Boeing has Letters of Intent for 152 more with delivery dates beginning in 2018, according to the Ascend data base.
Extending the line
The aerial refueling tankers are based on the 767-200ER, which is no longer offered by Boeing in a passenger version.
Boeing expects 400 sales of the tanker over the life of the program. Using the current LOIs as a base, the USAF commitment extends to 2028. At the current production schedule planned, the 767 line could be active until 2042.
But the USAF isn't the only customer for the 767.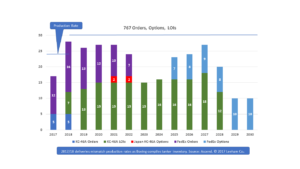 FedEx Orders, Options
FedEx is also a major customer for the 767. FedEx has 70 767-300ERFs scheduled for delivery this year through 2022. Options begin in 2025 through 2030.
Boeing is increasing the production rate for the 767 line to 2.5/mo this year, from 2/mo last year. Current orders/options don't appear to support this rate without more orders.
Although Boeing officially offers the 767-300ER in a passenger version, no order for this model has been received for years.
UPS—which breathed new life into the ailing 747-8 line with an order for 14 freighters—could be a possibility. It operates a large fleet of 767-300ERFs, all purchased new. At some point, it may conclude it needs more.