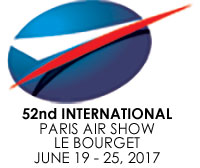 June 21, 2017, © Leeham Co.: Boeing hasn't launched the 797 and it's already looking at applying this technology to future aircraft and coming up with more technology for the decades ahead.
Mike Sinnett, VP for Product Development, outlined some of the ideas, in general terms, at a press briefing today at the Paris Air Show.
Blended Wing Body
The Blended Wing Body is an idea that has been kicking around at Boeing since it acquired McDonnell Douglas in 1997.
The technology has seen drone testing, but for many years, Boeing rejected the idea as a passenger airliner because it was assumed passengers would not want to be in a windowless airplane and those closest to the wings would be prone to air sickness as the airplane twists in flight.
Advances in flight controls, originating with the 787 program, now stabilize flight, he said.
In all likelihood, the airplane would see service first at a military transport and/or a cargo aircraft.
Autonomous systems
Sinnett said increasingly autonomous systems are making their way onto airplanes.
Auto pilots, auto land and thrust management–and all the systems shown in Figure 2–have been around for years and decades.  But the systems still require human oversight and, occasionally, intervention.
Sinnett said auto pilots are safe while monitored by the pilot, but not yet safe enough without the pilot.
Pilot-less aircraft
The first aircraft that may be a one-pilot, or pilot-less aircraft, will likely to be a freighter.
Sinnett said any use of such an aircraft will be in remote areas. He joked that the airplane has to be "so ugly, no pilot will want to fly it…" though one wonders if Sinnett is familiar with the Budd Conestoga, a development emerging from World War II.