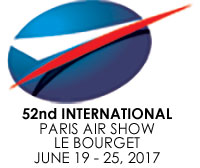 June 22, 2017, © Leeham Co.: As we head into the final day of the Paris Air Show, Boeing has a commanding lead in announced orders and commitments over Airbus.
But we're all waiting for the End-of-Show press conference at 11am Paris time for Airbus, where COO-Customers John Leahy has a long history of pulling a rabbit out of his hat, announcing three-digit orders to overcome Boeing's lead.
Final Paris Air Show for John Leahy
Whether Leahy can pull this off remains to be seen. This is widely expected to be Leahy's last Paris Air
Show before he retires this year. There is one big one left, the Dubai Air Show, in November.
In years past, the Airbus press conference was the swan song. Not this year.
Boeing launches its own End-of-Show press conference at 1pm. There will be an opportunity for officials to one-up Leahy's magic trick, if he has one.
Meanwhile, Wells Fargo has an excellent graphic from its report issued this morning before the show begins detailing orders and commitments from all the airframe OEMs. Most importantly, he lists the conversions of MAX orders to the MAX 10, so we can see what the true incremental gain is for Boeing.