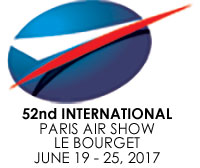 June 22, 2017, © Leeham Co.: The Boeing 737 MAX 10 received a rousing endorsement from lessors and airlines last week at the Paris Air Show.
There were 361 orders and commitments announced, blowing through Boeing's own forecast Monday of 240 orders. Never mind that 214 are conversions from other MAX orders, a fact Airbus COO Customers John Leahy used to downplay the program launch: the performance is a dramatic contrast to the poor reception Boeing received only three months earlier, at the ISTAT conference in San Diego, when a soft launch was rolled out by Boeing.

Initially, a resounding thud
Randy Tinseth, VP-Marketing for Boeing, revealed the general outline of the MAX 10 at ISTAT to a resounding thud so loud that Boeing hastily arranged a conference call with reporters to do damage control.
Among those less than impressed was prestigious lessor Air Lease Corp., whose chairman, Steve Udvar-Hazy, and CEO, John Plueger, are leading influencers in commercial aviation.
Plueger was decidedly cool to the MAX 10. Notably, his company was not among the lessors announcing an order at Paris.
Lessor support
But lessors Aviation Capital Group, BOC Aviation, CDB Leasing and Tibet Financial Leasing, both of China, were among the lessors ordering or committing to the MAX 10.
BOC Aviation is headquartered in Singapore but majority-owned by Bank of China. When the lessor went public last year, Boeing took a piece of the action to become a shareholder.
ACG, which ordered 20, is wholly owned by Pacific LifeCorp insurance. ACG is in the process of planning an Initial Public Offering. Ordering the MAX 10 was part of a strategy to boost its portfolio skyline in anticipation of the IPO, a company official said.
AerCap, the third largest lessor in the world, ordered 15. GECAS ordered 20.
Airline support
The big "get" was United Airlines. It ordered 100 MAX 10s, all conversions from existing MAX orders. This, too, was a turnabout for UAL since the ISTAT March conference. Then, UAL's fleet planners were unconvinced about the MAX 10.
But the ties between Boeing and United are very close. Boeing threw in some 777-300ERs to sweeten the pot. Boeing wanted United to take up 10-12, according to one person familiar with the negotiations. In the end, UAL took only four.
COPA converted 15 orders to the MAX 10. Xiamen Airlines signed an MOU for 10 and Malaysian Airlines ordered 10.
By the time it was all said and done today, 16 customers signed up for the MAX 10.
Conversions
Airbus' Leahy, and his end-of-show press conference this morning, downplayed the MAX 10 launch because of the high number of conversions.
This is a red-herring, however. Up-gauging from one series to another is common with Airbus and Boeing.
But Ihssane Mounir, VP of Global Sales & Marketing, provided what perhaps is the better explanation: the 737 backlog means there are no available slots until 2022 and some customers want to take delivery beginning in 2020.
The only way to do so is converting existing orders to the MAX 10, he said.
Boeing thumps Airbus
Boeing thumped Airbus at the show, a venue where the latter normally outshines Boeing. The last time Boeing prevailed in the orders race was 2012.
Boeing ended the show with 561 new orders and commitments, 361 of which are from the MAX 10. Fifty-eight orders/commitments were placed for the 777/787.
Mounir said he expects more 777 Classic and 777X orders this year.